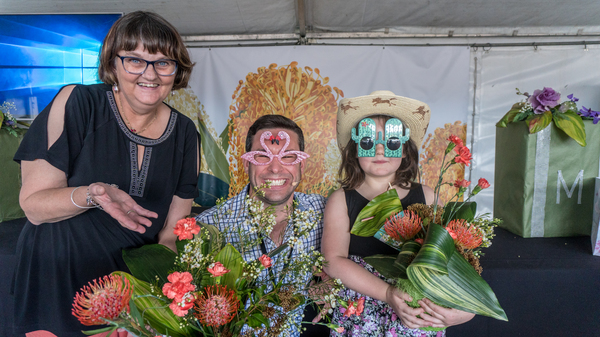 Whether it is bees or bromeliads, composting or camellias, the Queensland Garden Expo will have something for everyone when it opens for its 35th year on 12 July.
In just one month the Nambour Showgrounds will come alive with 40,000 plants, 360 exhibits and eight stages offering more than 120 lectures and demonstrations.
Queensland Garden Expo Event Manager Marion Beazley said event organisers were looking forward to a packed program of gardening delights, perfect for the most dedicated green thumb as well as gardening novices.
"What makes this event unique is the access visitors have to the wealth of knowledge our presenters offer, which makes it perfect for those beginning to venture into the garden, as well as those seeking specific advice," Ms Beazley said.
This year, crowd favourites Sophie Thomson, Jerry Coleby-Williams, Paul West, Phil Dudman and Claire Bickle will return, offering visitors the opportunity to really interact with the who's who of Australian gardening across a broad range of topics.
New on the program is Dr Tim Heard, an entomologist, ex-CSIRO research scientist and long-term stingless bee keeper and promoter of native bees.
"Keeping bees has become so popular over the years that we now have several experts sharing their tips on keeping bees and harvesting your own honey," Ms Beazley said.
Visitors looking for some great tips on growing their own produce and turning it into delicious gourmet meals will be delighted by the Cook's Garden Stage.
"Growing your own food can ensure the freshest and healthiest of produce and visitors will be spoiled for choice on learning how to produce a bountiful harvest in their own garden," said Ms Beazley.
"Long time Expo attendee, Kevin Redd will introduce the crowd to some very unusual and versatile green vegetables that thrive in a subtropical garden, providing a year-round supply of healthy greens. He will also whip up some quick, tasty and easy recipes using these hardy and delicious plants."
If you've ever thought your backyard was too small for keeping chickens and growing food, think again.
With our backyards tending to be smaller these days, Claire Bickle will advise on which chicken breeds are best for small backyards and Jerry Coleby-Williams will show attendees how easy it is to grow food in small spaces.
The 2019 Queensland Garden Expo will feature more than 120 free lectures and demonstrations and in excess of 360 exhibitors and displays. It will be held between 12 and 14 July at the Nambour Showgrounds, Coronation Avenue, Nambour. To find out more about the event visit www.qldgardenexpo.com.au.