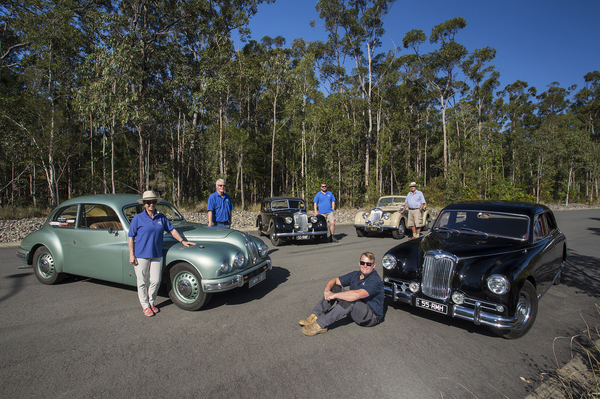 Sunday's Noosa Beach Classic Car Show will have a distinctly British flavour this year.
Cars from the Old Country are being celebrated for the 30th anniversary show, so organisers are expecting a large contingent of Brit metal amongst the 300 expected cars on display.
Noosa's Lions Park is set to buzz with millions of dollars' worth of classic cars. The annual event always attracts large numbers of local and visiting enthusiasts as part of the long weekend.
Members of the Noosa Beach Classic Car Club showed off some of their rare British beauties last weekend ahead of the show, all displaying the design elegance associated with 1950s vehicles.
Gathered were a 1953 Bristol 403 – one of just 281 built – a 1953 Riley 2.5-litre RMF, 1950 Riley Drophead Coupe 2.5-litre RMD and 1955 Riley Pathfinder.
The show is open to all marques and models however, so a huge drawcard is the variety on display.
Alongside British Jaguars, Bentleys, Rolls-Royces, MGs, Lotuses and Aston Martins, spectators can enjoy classic Fords, Holdens, Chryslers, Alfa Romeos, Ferraris, Peugeots and countless more.
A total of 15 different categories will be judged – including Pre-50s, Muscle Cars, Australian Sports and Survivor/Barn Finds – with trophies in recent years being aptly shaped like surfboards.
A huge fundraiser for local charities, entry to the show is just $10 (under 14s free), with gates open between 8am and 2.30pm at the Noosa Heads Lions Park, cnr Noosa Drive and Noosa Parade, Noosa Heads. For more information visit noosacarclub.com.au