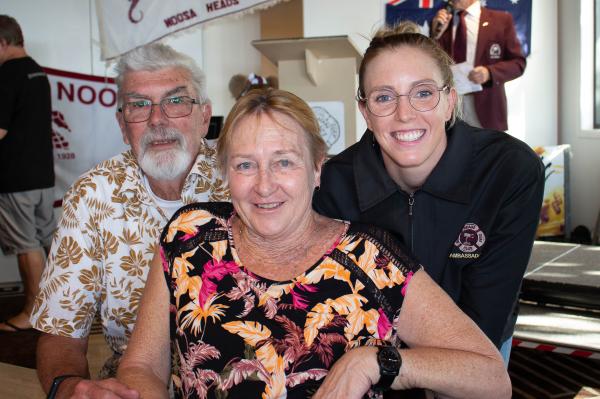 By Margaret Maccoll
Kareena won bronze in a fight to the end of a thrilling 10km swim at the 2020 Tokyo Olympics on Wednesday morning, claiming Australia's first medal in an open water swim.
"That was a wild finish," commentators said of the tough battle to the end. Brazilian Marcela Cunha won gold, silver to The Netherlands' Sharon van Rouwendaal and Kareena third with a time of 1.59.32 in a very close finish.
"Oh God, I'm so happy," Kareena said at the end of the race.
Noosa's Kareena Lee was number 15, middle of the lineup of 25 competitors when she dived into 29 degree Celsius water in the 10km women's marathon swim at the 2020 Tokyo Olympics on Wednesday morning.
In the first 15 minutes Kareena was caught in the splash and bash at the front of the pack when race officials gave Spanish swimmer Paula Bravo beside her a yellow warning card.
From then on Kareena placed herself around sixth-seventh place throughout the race with American swimmer Ashley Twichell leading for most of the race before dropping back as the final leaders made their moves.
Kareena was in the front pack as the bell rang for the final 1500 m lap as Chinese swimmer Xin Xin crowded beside her and was given a yellow warning card.
Back in Noosa, Kareena's parents Steve and Carolyn Lee had their eyes glued to their television screen to watch their daughter compete in the Olympics. Unable to attend the event in Tokyo or hold the big party they had planned because of Covid, the couple was home alone to watch the gruelling two-hour race.
"It's very exciting. It's a tactical race, not a speed race," Steve said.
"It's a long way. The plan was to finish it. The last kilometre will be full on. They'll be in a pack."
Kareena was one of Australia's first Australian Olympic Team members to be selected to compete in the 2020 Tokyo Olympics after finishing seventh in the World Championships earnt her a quota spot, she was nominated by Swimming Australia and officially selected by the AOC.
Australian Chef de Mission for Tokyo 2020 Ian Chesterman said at the time Lee's selection was well deserved after an outstanding international season in 2019.
"Kareena has performed to such a high level on the global stage, including seventh at July's World Championships, silver in February's Marathon Swimming World Cup in Doha and taking her first 10km national title in January 2019," he said.
After narrowly missing out on Rio 2016, the 27-year-old said she initially felt relief when she qualified for Tokyo.
At an Olympic farewell celebration held at Noosa Heads Surf Life Saving Club of which she is an ambassador she said "it meant everything to make the Olympic team". "It'd be a dream come true to come home with a medal," she told Olympian Dawn Fraser at the surf club. "To come home with gold would be everything."
Steve said Kareena arrived in Tokyo on 31 July and had completed a couple of ocean swims prior to the race, each one ending with a Covid test.
Kareena travelled with her coach John Rodgers, who has coached multiple Olympic swimmers, to Darwin to train in the warmer waters prior to travelling to Tokyo, a move Steve said had been "very productive".