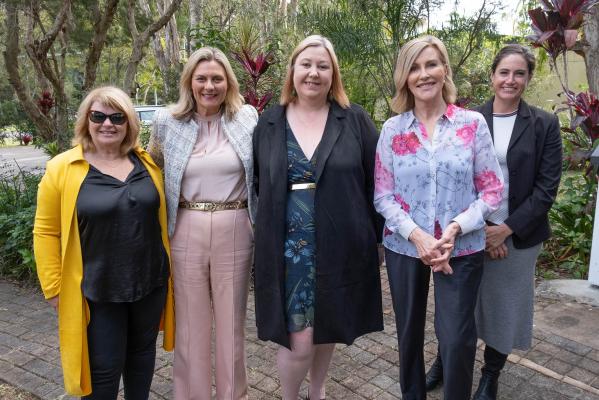 The snap lockdown in SE Queensland threw 'Mingle with the Mayor' Ball organisers scrambling to minimise fallout from the Government's decision.
Organising committee spokesperson Josanne Falla said a hard-working team were already at the Sofitel when the shock news came through.
"The working party had been at the venue setting up the day before and arrived early on the Saturday morning to put the finishing touches to the 150 seat ballroom," Ms Falla said.
"We had spectacular bunches of fresh flowers on each table – sound checks were underway, the sun was shining and everything was shaping up beautifully until the lockdown announcement came.
"It threw us into a spin because we had to consider that there were also 150 meals partially prepared. We knew if we didn't act immediately the food would be wasted."
Quick thinking and a conversation with Sofitel management saw a donation to local charity Urban Angels Community Kitchen, so they could cook meals to feed vulnerable people across the Sunshine Coast.
"Then the team banded together selling bunches of flowers to Hastings Street workers and passers-by. All in all it wasn't a disastrous result. We fed the needy and recouped some of our outlays. We just need to sell more raffle tickets now to make up for it," Ms Falla said.
SunnyKids Cooroy Family Support Centre, the major beneficiary of funds raised at the Ball, has seen an alarming increase in people seeking help since Covid started.
General Manager Kathleen Hope said 1598 individuals reached out for help in the last year – and that's just in one region of the Noosa Shire.
"We can't lose sight of the fact that domestic violence offenders don't take a holiday during lockdowns," Ms Hope said.
"An injection of funds would enable us to expand our support services for local families, including children, who are often severely impacted by family violence disruption."
With the new Ball date rescheduled to Saturday 28 August, the public now has a bit longer to show their support by buying raffle tickets and bidding on auction items.
"Noosa businesses have been enormously generous with over $150,000 worth of raffle prizes and auction items donated. They've done their bit – now it's up to the rest of us to dig deep and show our gratitude to help make the event a success," Ms Falla said.
Here's a sample of the items available to bid on or buy a raffle ticket in: Holidays; restaurants and in-home chef packages; hampers; diamond earrings; helicopter flights; health, wellness and sport packages; artwork and family photography; handmade jewellery; a radio advertising package; a Peugeot Django 150 Scooter or a 1.21 carat, round brilliant cut diamond.
"But probably the most unique donation of all – we'll even sell your house," Ms Falla said.
"As lead sponsor, Noosa4Sale Principal Alex Harris is donating a full real estate sale campaign at absolutely no cost, no cap, no strings attached.
"This is a once-in-a-lifetime opportunity for someone to sell a property for a fraction of the real cost. If you're thinking about selling a Noosa property any time over the next 12 months, or simply want to help those most in need, make sure you place a bid or pledge an amount. And remember, the higher the amount bid, the more money raised for SunnyKids," she said.
Bidding online is open to anyone, anywhere.
All you need to do is register on this link https://app.galabid.com/mayorsball and get underway.