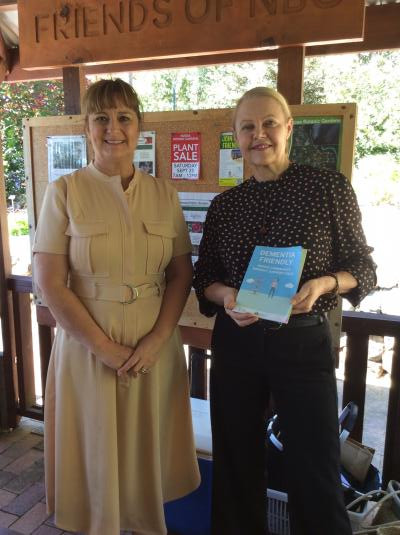 By Abbey Cannan
During Dementia Action Week, NoosaCare relaunched their revised dementia friendly communities memory support pack and revealed the opening date of their new dementia project.
The 32 bed, two-storey residential building, welcome centre and cafe, designed specifically to support those living with dementia, will be set within stunning gardens that reflect the natural beauty of Noosa.
Once completed, NoosaCare will be one of the largest providers of dementia care on the Sunshine Coast.
NoosaCare chief executive officer Megan D'Elton said they had a great turn out for the project update, with the opening day now confirmed for 1 November.
"We're beginning the entry process with a lot of people on our waitlist and have 15 people ready to move in immediately," she said.
Community members, sponsors, dementia cafe members and volunteers were in attendance at the open day.
Those attending had the opportunity to hear Ms D'Elton discussing what happens behind the scenes to deliver the best of dementia care, hotel services manager and new dementia project manager Jamie Oakley talking about the building process and the advanced technology that will be used to support the residents and group care manager Sonya Swann discussing the dementia care model and lifestyle choices for residents.
"A huge thank you goes to Tewantin Noosa RSL, LiveLife Pharmacy Group, Noosa Rotary Group, Judy Diggle in honour of John Hay and the Chandler family in honour of Stan Chandler," NoosaCare Executive Assistant Danah Wood said.
"This incredible group is supporting the new dementia project by naming the villas and cafe/welcome centre and funding the outdoor, safe to touch, fireplace. These donations will enable us to do the extraordinary for our residents, particularly those living with dementia."
In another fantastic initiative, Noosa MP Sandy Bolton joined Ms D'Elton at the dementia cafe to launch the revised dementia friendly support pack.
Ms D'Elton said she was in awe of the connections between the members and the volunteers at the dementia cafe.
"The relationship they all have and how comfortable they feel being there was incredible to see. It's just a family atmosphere," she said.
Ms Wood said they were grateful for Bendigo Bank who sponsor the dementia cafe and LiveLife Pharmacy Group and Cartwright Lawyers who sponsor the memory support pack.
"We've had three new members recently and you can see they're still very shell-shocked because they're dealing with the stress of a loved one with a diagnosis," she said.
"We're definitely going to put our arms around them and support them and do what we can to help."
Ms Wood said they created the support pack due to the gap in information available.
"It can take up to four years for someone to be diagnosed directly with dementia," she said.
"So, you're going through a constant battle trying to work out what's going on and then all of sudden you're hit with it and you're not quite sure what the next step is.
"The pack is a guide with the next steps and it also gives you all of the contacts within our community. It has a handy little checklist. It will hopefully make the journey a bit smoother for families."
Ms Wood said when speaking with a person diagnosed with dementia, it was important to constantly support them and never question their emotions.
"What they're feeling is 100 per cent real in their reality," she said.
"At NoosaCare we're constantly educating our staff with how we communicate with people with dementia, because with our new dementia project we will have more and more residents living here with dementia and it's something that the whole community needs to get behind."
Any enquiries and to obtain a copy of the dementia friendly communities memory support pack email Danah Wood at dwood@noosacare.com.au