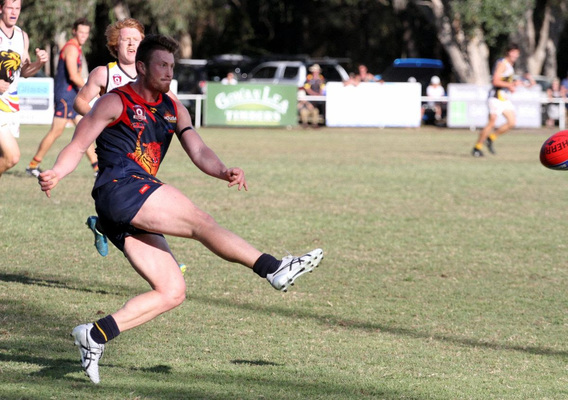 Julien Pitts
The Rococo's Bar and Bistro Noosa Tigers have come away with a more than satisfying 52 point victory over a very desperate and hungry Coorparoo last Saturday in Brisbane. Not everything went their way to the top of the table for Tigers as Coorparoo threw the 'kitchen sink' at them for the first three quarters. Their pressure all over the ground was worrying the more fancied Tigers and at the last break it was the Noosa side by just 8 points.
Up until that stage the back six had been superb with skipper Laskey instrumental and Ryley Buntain and Harry Maher continuing their strong reign of form. The Tigers were down to no one on the bench so rotations in the final stanza were nonexistent. What was going to happen in the last was anyone's guess.
Low and behold, on came the onslaught as the Noosa boys banged on 8 last quarter goals in just a sublime performance to run out 52 point winners and put an end to any possible upset that may have been on the cards. Coach Adam Bovalino saying 'I'll be honest I was a little nervous heading into the last quarter but the boys were just awesome. It's the sign of a really good side to be able to put the foot down under pressure and finish like that. Coorparoo were really tough today and we are just stoked to go into the week off a game and percentage clear on top.'
Footy manager Mitch Woods went into the centre and played his part in the victory whilst young Angus Smyth was a standout across half back.
Club veterans and champions Peter Trompf and Caleb Isles had their own influence in the contest in what was just a really solid win. No game this week however we still have a luncheon at the club with Peter Moody (Black Caviar trainer) and Anthony Mithen (sports broadcaster) entertaining us for 3 hours from 1 till 4 pm and then up to the surf club by courtesy bus to finish what should be a great day!
A very big thank you to all those who came down and supported Oggy's under 16 boys who lost narrowly to Coolum in what was a cracking game at Noosa last Sunday. The future looks more than bright and to see so many senior players and coaches and nearly all of the under 17 girls at the game just proves as a club we are in a really good position.