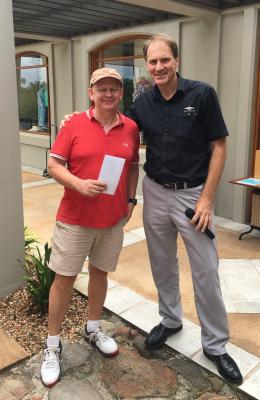 By Peter Owen
When Phil Harrison won last year's Sunday Series – and a year's free golf at Noosa Springs – he promised he'd make good use of the prize.
And he's been as good as his word.
Phil regularly clocks in at the Noosa Springs Golf Shop, and reckons it's a bad week when he can't fit in at least two rounds.
He's also stayed loyal to the Sunday Series – playing with a group of good mates each Sunday at 7.30am in a competition that is now sponsored by Joe Langley Real Estate.
And he's in a good position to defend his title.
On Sunday he played an outstanding round to record 39 points in the stableford competition – easily good enough to make him the day's winner.
And, going on past performances, 39 points may well be good enough to take monthly honours, and again get Phil into this year's final, along with all the other golfers who return the best score of each month.
This year's prize – one for men and one for women – is a golfing holiday at Noosa Springs, complete with two nights' accommodation, daily breakfast and two days of unlimited golf.
"I had a great round," Phil said. "I had 23 points on the back nine and shot par for the nine holes – that's the best I've ever done."
Phil, a 53-year-old former Brit from Yorkshire who migrated to Australia eight years ago, reckons he's playing the best golf of his life. For years an 18-handicapper who struggled with his game, Phil's now got his handicap down to 12.
He'll have to keep those swing thoughts in his head, though, because Phil will be in Dalby for the next few weeks, working for an energy company as an instrument control engineer.
But he'll be back before the end of the month – hoping his 39 points has remained the best score of the month.
The Sunday Series is played each week, with weekly prizes for the best score by a male and female. Visitors are welcome to compete, and Sunshine Coast residents are eligible for a reduced green fee of $79, which includes the cost of an electric cart.
Rain disrupts pennants and Masters Tour
Heavy weekend rain took its toll on regional golf, with zone pennants cancelled, club competitions disrupted, and the Cooroy leg of the Sunshine Coast Masters Tour postponed until the end of August.
The wet weather followed three days of COVID lockdown, when all competition golf was called off, leaving thousands of golfers starved of action.
Cooroy was particularly hard hit with the waterlogged course closed until Monday.
The Masters Tour event, scheduled to be played at Cooroy on Monday, has been rescheduled for Monday, August 30. Those who had already booked will be automatically included in the new draw.
The tour, for male and female golfers aged over 50, is made up of a series of 18-hole stableford events, throughout the Sunshine Coast and the South Burnett.
Officials called off the Sunday pennants round, even though most courses had dried out sufficiently by then to allow play for members and visitors.
Katelyn in the mix at Gympie
Katelyn Must, who has been working as a teaching professional at Noosa Springs for most of this year, showed she's lost none of her skills when she shot two-under-par 68 to finish fifth in the Gympie Pro-Am on Sunday.
Katelyn, 30, was an outstanding junior before playing some tournament golf, then moved to Western Australia where she became an accomplished golf coach.
She finished three strokes behind joint winners, NSW's Lucas Higgins and Queenslander Tim Hart, who has been dominating this year's pro-am circuit.
Noosa veteran Simon Tooman shot one-under 69, and indicated he was close to top form for the resumption of the Legends Tour at Yeppoon this week.
Mt Coolum's T. J. King and Yandina Creek's Brad Burns shot even par 70 to share 13th spot.
Jim honoured for years of service
Cooroy stalwart Jim Henderson, vice-captain for 10 years and a willing volunteer for the past two decades, has been made a life member of Cooroy Vets.
Vets captain Grant Smallacombe, endorsing the push for life membership, said Irishman Jim worked tirelessly behind the scenes on behalf of the Vets.
"He has shown great dedication, never complains and is always happy to give his time to benefit the club," Grant said. "It would be impossible to calculate the hours Jim devotes to Cooroy Vets and the whole club."
Jim is a long-time Vets committee member and is acknowledged as the 'chief provider' on host days, when Cooroy Vets welcome players from other clubs, often choosing to man the sausage sizzle rather than play.
Strong showing by Maddie in state title
Noosa Springs' Maddison Kelly shot rounds of 82, 83, 76 and 77 to finish in the top 30 at last week's Queensland Junior Amateur Championships at Bargara.
It was a strong performance from the six-handicapper, who was competing against girls with far more experience – and with much lower handicaps.
Her performance would have been even better without the six double-bogeys which littered her cards over the four days play.
The highlight of her week were the two birdies she scored during her third-round three-over 76.
The champion was 14-year-old Surfers Paradise star Haruhi Nakatani (72, 69, 73, 68) who beat highly rated Caboolture golfer Justice Bosio by a single stroke.
Club competitions
NOOSA
Monday, 28 June
Women's stableford: A grade – Gayna Ryan 39, Cheryl Grieve 37; B grade – Dianna Stagg 38, Donna Coey 36; women's stableford, 9 holes: Kathy Jones 18c/b.
Tuesday, 29 June
Men's stableford: A grade – Alan Martin 40c/b, Scott McKenzie 40, John Osmaston 39c/b, Alan Coey 39; B grade – Studley Martin 42, Glenn Puckeridge 40c/b, Ray Bostelman 40, Dale Officer 37; C grade – Peter Turnbull 39, Stephen Jackson 38c/b, Michael Masters 38, Ryan Quinn 37c/b.
NOOSA SPRINGS
Monday, 28 June
Men's stableford: Bruce MacKenzie-Forbes 36, Jeffrey Pearce 35, Graeme Maddern 34; women's par: Lee-Ann Hay +3, Lianne Wamsteeker Sq, Birgit Wehrenberg -1.
Tuesday, 29 June
Men's stableford: John Mulquiney 36, Matthew Graham 34, Scott Dimitriou 32.
Sunday, 4 July
Men's Sunday Series, stableford: Phil Harrison 39, Raymond Brown 36, David Collinge 35; women's: Kelly Lynch 37, Judy Buss 35, Elizabeth Wadsworth 33.
COOROY
Tuesday, 29 June
Women's stableford, 9 holes: Jenny Webster 17c/b, Lee Williams 17, Beatrice Bruin 16c/b.