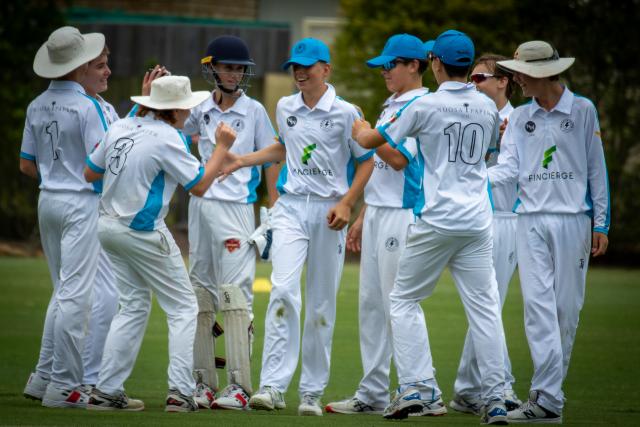 Randall Woodley
Don Bradman quote- "Cricket is a game of glorious uncertainties."
Last weekend saw all Tewantin-Noosa Thunder Senior cricket teams play the dreaded Saturday-Sunday round of fixtures. This is always a drain on the club with players having to back up for Day 2 on the Sunday. But the good news is that Grades One, Two and Three all registered solid wins.
FIRST GRADE; Tewantin-Noosa Thunder hosted the ladder leaders, Coolum Sharks at home at the weekend and sent them in to bat with grey skies overhead. They started well to register a 60-run opening partnership before Jarrod Officer and Ben Laughlin made the breakthroughs to have them 2-80 at drinks..
Mike Thomson making a return to first grade came on and bowled beautifully (as expected) and spinner Dom Taylor settled in at the other end. They were almost impossible to score off and strangled Coolum, taking two wickets to have them 4-125 at lunch. Afterwards it was Taylor continuing unchanged and Thomson and Laughlin rotating at the other end. Teenage spinner Finn Mayo came on, bowled a maiden first over and took a wicket in his next. Coolum were all out 168 in 68 overs with just 6-40 coming off the last 30 overs. The team saw a real masterclass of subtle variations from Dom Taylor bowling 20 overs and taking 5-31.
Thunder came out to bat and by stumps had lost early wickets to be 3-74 with Officer and Sam Baker on 20* each. On Sunday morning Thunder continued before Officer was out for 33. Promoted batsman, Billy Lloyd-Green came in and with Baker moved the score to 125 before Sam went for 37 runs. Lloyd-Green (40) and Cooper Lea (41) batted superbly to pass Coolum's score with 5 down. Thunder declared at 8-188 to have a crack at an unlikely outright with 40 overs left in the game.
Coolum came out to survive and despite some absolutely ridiculous field settings, they did not look to score at all. All the bowlers performed really well and Coolum's lack of intent came back to bite them falling to 6-60 after 28 overs to give Thunder a sniff. They got through the danger period but were all out 106, Ben Laughlin took 5-29 with the other wickets shared around.
This win sees Thunder on top of the table heading into the One-Day matches from next Saturday.
SECOND GRADE: The team travelled to Nambour for Day 1 and welcomed several new players to their squad including a well-earned 2nds debut to Farran Cooke. Thunder decided to bowl first with Jet Taylor and Luke Smalley opening the bowling against a determined Nambour top order. They were batting well until left-arm orthodox bowler Chris Hopper got into his work, bowling 20 overs straight with some phenomenal turn and bounce and finishing with the absurd figures of 5-13 off 20 overs. They were eventually all out for 125 with Luke Smalley 2-35 and young Farran Cooke taking 2-7 off six overs.
With 21 overs to bat, Luke Smalley (56) and Tristan Griffin (33) batted aggressively to put the team in a strong position.. Great to see Luke Smalley get his first 50 in seniors. At stumps the Thunder boys were 6-153 with some big late hitting.
Sunday saw the Thunder declare at 9-177 in an attempt to win the match outright. They opened the bowling with Mike Thomson and Hopper to continue his dominant match. A brilliant mid-wicket catch to Max Cooper off Hopper's bowling took the first wicket in the 7th over, before another quick couple of wickets to Hopper. From there the Cutters dug in and it wasn't until Josh Christensen took 3 wickets that the end came. Nambour all out for 160, giving Thunder 12 overs to chase 109. Challenge accepted.
Tristan Griffin (38 off 25) and Jarred Davis (17 off 14) were keeping the team in the fight. Chris Hopper came in and scored 25 off the 9th over to get the score to 80. 29 runs were required off 3 overs but the boys fell just 9 runs short. A great match for the team with plenty of confidence for the matches ahead. Chris Hopper-Man of the Match with 9 wickets and 42 runs.
THIRD GRADE: The boys were playing Glasshouse Rangers at home and welcomed a couple of new faces to the team. The visitors batted first and after a hard day in the field Thunder had them all out for 187. The bowling honours went to Luke Anstey with 4-27 off 19 overs. The remaining wickets were shared across the bowlers with four Juniors taking a wicket each.
Day 2 – Glasshouse bowled well but Luke Anstey took to his newly allocated position of opener and managed another 44 runs. He was helped by Ben Blackwell, a 14yo lad playing his first 3rd grade game and together they put on a magnificent partnership. Thunder lost a couple of wickets over the next hour but daylight was disappearing. Enter veteran Robbie Payton and Ben Wilson (Thunders slash players). Rob (34 from 18) and Ben (23 from 12) absolutely belted Thunder over the line in fading light gaining the much needed first innings points.
All in all a great team effort in what was a tight game of well-played cricket.
FOURTH GRADE: Batting first against Maroochydore the team were bundled out for 111 with Tony Watson (45) and Brian Lee (44) the only contributors. On Day 2 the Swans declared at 4-232 and Thunder fared no better in their second innings falling for 86. A disappointing match but with some of their promoted players returning next match the team will perform at a better level.
UNDER 13B (Mixed Team) White . Sent into bat by Nambour, the Thunder lost some early wickets but Ben and Campbell steadied the ship with some good quality measured batting with both retiring. The team did well to register 8-136 in their allotted overs.
Unfortunately the bowling was not up to standard and Nambour were able to score 197 . However the coach felt that the team performed well as a unit overall playing in tricky conditions with the strong wind making it hard to bowl. It is certain that all the players will have learnt something from the days play and will improve next week.