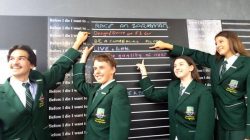 Noosa District State High School captains were invited by the Cooroy Returned and Services League (RSL) to attend the official opening of the Before I Die wall yesterday.
The Cooroy Library co-ordinated the wall's unveiling at the Cooroy RSL as part of the global Before I Die project art project that already boasts over 2000 walls in more than 75 countries.
The unique concept is to turn the wall, which is located in public, shared place, into an engaged and interactive space, where people can stop and think and reflect on their life, share their hopes and dreams with others (by writing on the wall), and in turn, inspire others.
There will be two walls in the Noosa region with one located at the Noosa Junction in Arcadia Walk, due to be launched this Friday 17 February and the other is on the external wall of the RSL in Cooroy.
Wednesday's launch of the Cooroy Before I Die Walls was full of ideas, creativity and engagement.
The school's Year 12 co-ordinator Bernard Weekes attended the opening of the wall at the Cooroy RSL with the school's Year 12 captains.
"It's very exciting to be bringing this wall to the wonderful Cooroy community and the students of Noosa District State High School," he said.
Noosa councillor Jess Glasgow wrote that he would like to "race an Ironman" before he dies; while school captain Mitchell Thomas wishes to "be a commercial pilot" before he dies.
Many lofty dreams were expressed on the wall at the Cooroy RSL and the local community is welcome to add their dreams and hopes to the walls.