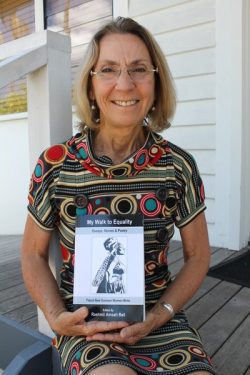 Councillor Ingrid Jackson will travel privately to Papua New Guinea for International Women's Day on Wednesday 8 March to launch My Walk to Equality, the first ever collection of writing by Papua New Guinean women.
The book's editor Rashmii Amoah Bell asked Cr Jackson to represent her at the launch, as she cannot be there herself.
"I was honoured to be invited to perform this function, as My Walk to Equality, a book of nearly 300 pages, is a landmark anthology in a country where the lot of women has been particularly difficult," Councillor Jackson said.
"In published reviews, it has been described as 'outstanding, inspiring and ground-breaking' and 'a remarkable achievement'.
"The celebrated PNG politician Dame Carol Kidu, who has a close association with the Sunshine Coast, says it 'embraces and challenges traditional perspectives of equality' – a considerable compliment from a woman who has not always found political life easy in PNG."
The launch will be attended by more than 80 people, including 15 of the book's authors, 20 journalists and a number of VIPs including Australia's Deputy High Commissioner to PNG.
The book has been released for sale and has so far sold more than 3500 copies, but there are plans to make the book available for PNG schools, women's groups, churches and libraries at no cost.
Cr Jackson said the book is a "very public pushback" to the high levels of violence against women in PNG.
"The women writers who have contributed do not attack the men for their behaviour," she said.
"It's not about complaint, revenge or anger. They have a much more positive approach, saying we need to work together to do this."
Cr Jackson's husband Keith has a long association with PNG and over the last five years has been working with Papua New Guinean writers to revive local written literature, a project which has resulted in the publication of nearly 40 books.
"My Walk to Equality is an anthology of more than 80 poems, essays and short stories by 45 authors," Cr Jackson said.
"The book celebrates the contribution of women to Papua New Guinean society and also articulates the struggles confronting women in their daily lives. It shines a light on their courage, wisdom and focus on building a better society."
My Walk to Equality is published by Pukpuk Publications and available in Australia online from Amazon Books.