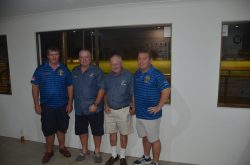 By Ron Lane
On visits to two of our local football clubs – Dolphins Rugby Union and Pirates Rugby League – one thing becomes obvious for both codes – there is a distinct atmosphere of confidence for the season ahead.
NOOSA PIRATES
With players returning to their clubs for another season, strong support groups being formed and major sponsors, Dowling and Neylan Real Estate at Dolphins and Tewantin-Noosa RSL at Pirates, all the essential ingredients for a very progressive and successful season are in place.
On Saturday at Maroochydore, the Pirates' dream of once again fielding an A Grade team became a reality, when under newly-appointed coach, Ron Greentree, they took to the paddock at Wises Road to play their first round of competition. Their opposition was last year's premiers, Maroochydore Swans. The long, hot summer of drawn out executive meetings had not been in vain.
Despite the final score being 24-18 in the Swans' favour, all Pirates' officials and supporters came away very happy. For a team that met for the first time on the previous Thursday evening at training, their performance was outstanding.
Apart from fielding an A Grade, Pirates also played Under 18 and reserve grade teams – winning both.
Prior to this, last week at their clubhouse they officially launched their 2017 season.
After welcoming Patron Glen Elmes, Member for Noosa, and major sponsors, emcee Ben Christensen spoke of the club's aim to unite both the junior and senior clubs as one identity.
"To achieve this we will definitely be communicating at all levels – it can't be done overnight – but it will happen."
On being introduced, Club President President Greg Christensen acknowledged those in attendance, then spoke of off-season achievements.
Amongst those were internal refurbishment of the clubhouse, the ongoing success of the annual rodeo and the visit of the International Legends of League. He then welcomed returning and new sponsors into the Pirates family.
The president then introduced his executive and coaches – Vice President Ben Christensen, Secretary Lexie Mawn, Treasurer Gary Christensen.
The coach for the Under 18s is Mick Duff, and the man in the hot seat – A Grade Coach, Ron Greentree.
It was during this period that the President confirmed officially that the Pirates A Grade was definitely a goer. The following evening at 6pm they had their first official training run at Pirate Park.
NOOSA DOLPHINS
For the Dolphins they also had a good start to the season with a big role up of parents and players that made the junior sign-on a good indicator for the time ahead.
Following a successful season which saw the seniors go through undefeated to win the Sunshine Coast Premiership and the election of new president Donald McKill at the Annual General Meeting, all players from Under 6 to Under 18 are really keen to go.
With this wide range of age groups, all indications are that there will be a total of eighteen teams (some groups having two and three), the Dolphins are in line for one of their best seasons ever in the history of junior football.
President of the Junior Division Rob Frey said, "We have a very healthy and positive environment and our numbers are up on last year."
Both junior and senior presidents are in agreeance that it is not just rugby that is taught at the Dolphins but above all – loyalty, team spirit, mateship and family values.
Coaches are not just coaches but mentors as well.
To ensure that the high standard is maintained the club has this year appointed Brent Timms as Coaching Coordinator.
"Mentors and coaches will be greatly assisted by this officer to ensure that the club meets all objectives in developing players and people in all groups; parents, supporters and above all – the game of rugby union," McKill said.
For the Dolphins, their first game will be against University at Maroochydore on the 25 March. We wish them well.