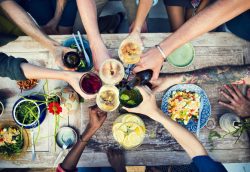 By Hollie Harris
Share food is all the rage. Time spent with good freinds, cold drinks and a selection of goodies off the menu to sample and share is a perfect way to wile away the afternoon.
Here is the mouthwatering selection of share plates available at the Peregian Beach Hotel between 2.30pm and 5pm every day. Top tip? – Wednesday nights are tapas and beer tastings with a selection of tapas and three craft beers to try for $20.
Wood-fired garlic, parsley and mozzarella pizza.
Wood-fired pesto, parmesan and mozzarella pizza.
Antipasto board, wood-fired house made focaccia, chevre and garlic, marinated olives, prosciutto and artichokes.
Natural Coffin Bay oysters.
Wood-fired Kilpatrick Coffin Bay oysters.
Karagge Chicken wakame, azu gura, mizzuna, wasabi aioli.
Salt and Pepper Squid, lemon and dill aioli.
Zucchini and carrot falafel, baba ghanouj, tabouli.
Kumara, sweet corn and chipotle fritters, salsa verde, sour cream.
Wood-fired garlic Mooloolaba King prawns, salsa verde, sour cream.
Rare Seared Kangaroo loin, lemon myrtle and tomato relish.