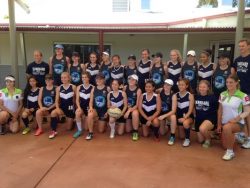 By Jolene Ogle
Noosa District State High School 2011 graduate Danielle Nunn has returned to her school to referee a game of touch football between the Noosa Open Girls and the International Philippines Open Girls team.
Danielle has attained the highest level of referee accreditation, a Level VI, which allows her to referee national and international competitions and she is ranked as the fourth best women's referee in Australia.
The tightly-contested match was held on the NDSHS school oval, with the end result a draw with two points awarded to both sides.
A drop off to determine the outright winner was not possible, as the Philippines team were under time constraints, due at Sunshine Beach State High School straight after the draw was completed.
"It was such a fun experience," Danielle said.
Danielle thoroughly enjoyed catching up with her teachers and school touch football coach Murray Gordon.
Danielle's mother, and NDSHS teacher aide Jan Connell, is very proud of her daughter's success as a referee.
"My beautiful daughter is a super ref," Ms Connell said.