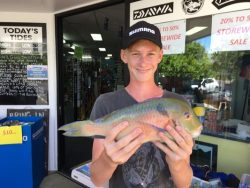 By Jack Mangrove
The whiting have been in good numbers with quality whiting being caught throughout the lower reaches of the river.
The Frying Pan, Dog Beach and the banks along Gympie Terrace have been the place to be.
The good old elbow slappers have been responding well to live and cured worms yabbies and surface lures like the Bassday Sugapens, Bassday Crystal Poppers and Fish Candy Skinny Dogs.
Bream have also been on the chew with some thumping bream around the Woods Bay area of late.
The humble prawn or a strip of fresh mullet has been working a treat. Soft plastics and small hardbody lures are another great way to chase bream and when fished on super light braided line or straight through fluorocarbon can provide some great fun.
There have been some great flathead in the lower reaches of the river, bouncing soft plastics along the bottom would have to be one of the most effective methods, with one of the standouts being the Keitech Easy Shiner in various colours.
Trevally, tailor, and school jew have also been in the lower reaches and have been feeding hard on baitfish coming down stream after the wet. Fishing upriver in the dirty water, you may come across a thredfin salmon as they love the dirty water conditions.
Offshore thing has been going off! The fishing on Sunshine Reef has been exceptional over last couple of weeks with the rain. Consistent reports of quality sweetlip, squire, coral trout, tuskies, and Moses perch. On North Reef, there has been some nice-sized Spanish mackerel. Trolling deep diving lures have been working a treat along with slow trolled pillies and slimies with a squid skirt. If you come across a patch of them down deep, don't be afraid to drop a metal slug or micro jig to try and tempt them. In the Bay, tuna have been in good numbers with the mack tuna and long tails feeding on bait schools. Slug and surface lures have been the go for those larger craft that did the run out to The banks, with good-sized snapper, tuskies, pearl perch and moses perch all accounted for.
On the beaches, Noosa's Northshore is a great option to take the family with tailor, flathead, whiting, dart, bream and big jew all on the menu. One spot that is great is the stretch along Teewah beach. There has been some good gutter with quality fish coming on the tide. Fishing the rocks at Noosa National Park has also seen some good results with sweetlip, squire and tuna all on the chew.
On behalf of Jack Mangrove, best of luck on your fishing adventures.