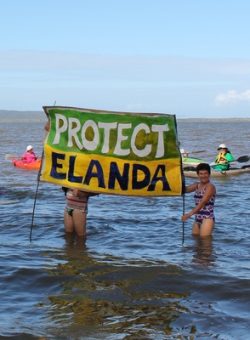 By Jolene Ogle
Noosa councillors voted on Tuesday 18 April to make a submission to the Marine Resource Management section of the Department of National Parks in opposition to The Discovery Group's request to downgrade a fish habitat.
Council is expected to ratify the decision at the 20 April ordinary meeting after councillors were vocal in their opposition to the proposed downgrading of 2.6ha of declared fish habitat area at Elanda Point from an A management to a B.
Mayor Tony Wellington said the downgrading of the habitat area rating could have "repercussions" and set a "dangerous precedent", particularly if it's done with "council compliance".
Councillor Wellington said arguing the jetty at Elanda Point would lead to the use of more environmentally friendly flat-bottom boats "didn't wash".
"The applicant admits that some of their current activities are not entirely environmentally friendly, thus arguing that a transition to flat bottom boats will improve their environmental impact … however, it remains that the applicant could have been running flat-bottom boats, electric boats for many years from Noosaville," Cr Wellington said.
Deputy mayor Frank Wilkie said the application was a"paradoxical proposition".
"In essence, a highly successful commercial operator is requesting the downgrade of environmental protections in return for better environmental outcomes," he said. "To remove a high level of protection in law to return a high level of protection in practice," he said.
Fourth generation fisherman Trevor Clarey was among the many residents in the council gallery and said Cr Wellington "hit it right on the head" when he said the downgrading of the fish habitat would "set a dangerous precedent".
Mr Clarey said he believed council had made the "right decision" by voting to write a submission opposing the downgrading of the habitat area from an A to a B.