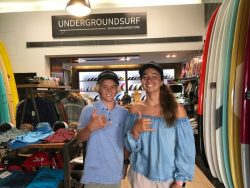 By Hollie Harris
Entries piled in from over 50 young surfers from Currimundi to Little Cove and everywhere in between, for the inaugural Underground Grom Hunt for the best surfer under 15 years old on the Sunshine Coast.
Over the past 10 weeks, the Underground crew attended boardrider events, Noosa Festival of Surfing heats and scoured the beaches.
Underground Surf Founder Andre 'Ondi' Marsaus said they spoke to club presidents, officials, coaches, parents and surfers of all ages in the search for a stand out young performer.
"We found so much promising talent during the hunt it was impossible to only choose one," Ondi said.
"There are so many kids out there who are really good surfers, are progressing quickly and are genuinely nice people. We found it hard to not to want to give every one of them the title," he said.
Underground Surf announced today it has decided to appoint not one but two winners and is offering a special opportunity to the top 10 groms.
All the entrants will receive prizes for participating in the Grom Hunt and they have promised to continue to encourage all the guys and girls who entered.
Giorgia 'Gia' Lorentson, 14, and Luke Skelton, 12, have been announced as the top Underground Groms for 2017.
Giorgia and Luke receive a huge kit of gear each from some of the biggest selling brands in the surf industry including Underground Surf, Vissla, Patagonia, Creatures of Leisure, Tools and Matunas.
"We loved Gia because she's an all-rounder, she's a great surfer who's achieving great results competitively, and she's well-liked from a great Sunshine Coast family," Grom Hunt Director Maree O'Connor said.
"Gia sarted surfing at 10 years old and has been getting excellent results. Last year she placed first in the Queensland Titles (Under 14 girls), tied overall third Queensland Surfing Titles (Under 14 girls), first (14 and Under) Noosa Boardriders, second (16 and Under girls) Noosa Boardriders, Most Improved Girl, Noosa Boardriders and third in last week's HIF Agnes Water Surfing Festival (Under 18 girls)," Ondi said.
"Someone like these guys believing in me feels really special, and they're local guys which is great," Giorgia said.
"Surfing makes me happy and our family surfs all the time. My Mum believes that surfing can be competitive when you want it to be but we don't look at it like a competition – it's more of a lifestyle," she said.
Fellow winner Luke Skelton is also very excited with Underground's decision.
"I'm stoked because there are so many great surfers out there who don't get opportunities like this, I'm really grateful. Coming from a non-surfing family I feel like I'm joining a surfing family! My parents are awesome, they drive me to all the competitions and support me so much, but to have these guys believe in me too is amazing. I am pumped and am not going to let them down!"
Luke started surfing at the age of six and his mum Reni van Tiggelen recollects how determined he was to surf and that while she and his dad were baking their renowned 'Seed' breads in the early hours each morning, Luke would head off on his own at 10 years old and go surfing.
Underground chose Luke because he is a stand-out surfer for his age group and is very passionate and driven.
In 2016 he placed second in 12 and Under for Noosa Boardriders, second in 14 and Under Noosa Boardriders and made the quarter finals in the Rip Curl Grom Search at Coolum.
Underground now plans to work with the groms on their goals for the year in a holistic manner.
"We look at the whole surfer, not just getting the best kid on the block but working with them in all areas. There's lots of excitement at Underground Surf at the moment," Ondi said
Gia and Luke will be the first surfers ever to rip on the new Underground Surf performance grom boards which have been especially developed for critical manoeuvres and competitive surfing.
There is a Grom Groveller shape for the young surfers not interested in competing, and expect to see a heap of these new boards on the beaches.