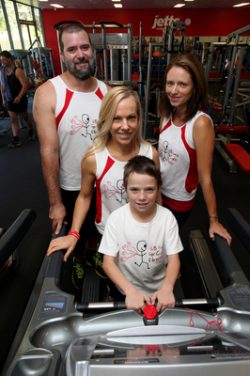 The Sunshine Coast Super Mums are at it again, running 65 kilometres in relay on a treadmill at Jetts Peregian, proudly supporting Cystic Fibrosis Queensland.
In 2011, four Sunshine Coast mums who all have children with cystic fibrosis decided they would raise funds for those living with CF by running 65 kilometres in a non-stop relay.
Six years later, the Sunshine Coast Super Mums are now joined at the annual event by over 100 people running and walking the non-stop relay of 65kms, with a team from Queensland Cricket joining the fund-raiser this year.
More teams throughout various locations in Queensland, including hospital staff at the Lady Cilento Children's Hospital in Brisbane are also joining the relay.
Cystic fibrosis mum and event organiser Donna Eaton said those with cystic fibrosis had an average life expectancy of only 37 years and often needed organ transplants in hope to live longer.
"There is no cure and this insidious genetic condition requires relentless daily treatment as well as frequent hospital admissions," she said.
"Those living with CF, including over 800 families in Queensland with more than 50 families living here on the Sunshine Coast, need all the help they can get.
"The funds we raise go towards supporting these families and research to improve outcomes for those living with CF. At our event we form teams and, in a non-stop relay, we run or walk 65kms. To date it is estimated that over $100,000 has been raised. It's just amazing!"
This year the 65kms for Cystic Fibrosis and Organ Donation event will be held on Saturday 6 May from 8am at Jett's Gym Peregian Springs. Many teams will also be participating by holding their own run or walk at various locations in Queensland. If you would like to join the event or learn more contact Donna on 0414 942 408 or go to 65kms.com to donate.