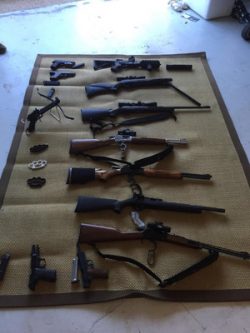 By Margaret Maccoll
Police have seized a large stash of illegal weapons from a Doonan property and charged a male resident following raids this week in a joint operation between police and the Australian Border Force (ABF).
These operations are the result of an ABF investigation conducted into the importation of illegal firearm parts and silencers into Queensland.
On Tuesday 16 May ABF investigators and detectives from the QPS State Crime Command Firearms and Cannabis Team (FACT) executed search warrants at a Doonan address.
During the search ABF and FACT officers located several illegal unregistered weapons and detected several serious breaches of the Weapons and Explosives Act.
Included in the items seized was an air rifle, two bolt action rifles, a straight pull rifle, three lever action shotguns, and four bolt action centre fire rifles.
A 49-year-old male resident was charged and issued with a Notice to Appear for one count each of:
* Manufacture of weapon while not licensed.
* Unlawful possession of weapons (category D/H/R).
* Insecure storage of weapons.
* Firearms loaded other than when being used to shoot.
* Possession of magazine exceeding 10 rounds.
* Failure to store small arms ammunition in a secure place.
He will appear in Noosa Magistrates Court on 12 July.