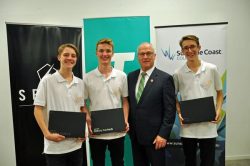 By Margaret Maccoll
St Andrew's Anglican College team CheckTech Solutions has come out on top in the second annual Mayor's Telstra Technology Awards which help to promote, foster and grow innovation and entrepreneurship on the Sunshine Coast.
The Peregian Springs College students Charles Eldridge, Samuel Rieger and Sam Young came up with the proposal to develop an app to solve tech problems using a crowd-sourced approach by connecting tech gurus and those with tech problems through a fast, low-cost app.
The winning students took home a Galaxy TabPro S Pro 4G each, while their school was awarded a Meraki access point with a three-year licence.
The competition included more than $20,000 in prizes, with the winners announced at a special ceremony at Spark Bureau in Maroochydore.
Winning CheckTech Solutions team member Charles Eldridge said being involved in the Mayor's Telstra Technology Awards had been a lot of fun, as well as about learning.
"We've been working on an idea called CheckTech Solutions, where we are trying to connect people who have technology experience, like students, with those who need technology help," Charles said.
"At the beginning, I didn't know what I was going to do after school or what I wanted for the future.
"I had specific interests like science and technology but I didn't know where it fit in, and this experience, particularly the entrepreneurial part of it really helped me to understand what it's like to be in a technology-driven world.
"We had no idea what entrepreneurship was at the beginning and over the course of a couple of weeks we collaborated with mentors and industry professionals and we really learnt about what it is to be an entrepreneur.
"We're definitely going to continue to grow the business and put it out to the public and see where it goes.
"Hopefully it goes well and we'll be the next Uber for tech support.
"We're really, really happy to have been awarded first place."
Thirty students from six different schools across the Sunshine Coast participated in this year's awards which were designed to encourage the Sunshine Coast region's young people to express their technological talents.