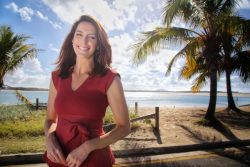 By Margaret Maccoll
Network Nine news will begin broadcasting an hour long Sunshine Coast bulletin from 21 August as part of the network's rollout of 15 regional bulletins on the east coast of Australia.
Presenter for the Sunshine Coast region will be Samantha (Sam) Heathwood with three reporters based in Maroochydore to cover news and sport from the region stretching from Gympie and Noosa in the north to Caloundra in the south and west to Maleny and Eumundi.
Sam worked for Win TV for eight years where she was based in Rockhampton and Toowoomba before moving to Network Nine.
She said the bulletins would give communities a different platform to voice their views.
"Looking at the ratings for Queensland what it came down to was the regions counted the most," she said.
Sam said viewers who had watched Nine Brisbane would recognise her on the new bulletins.
The NSW regional bulletins will be presented by Vanessa O'Hanlon (former ABC weather presenter) and Jo Hall will cover the Victorian regional news bulletins.