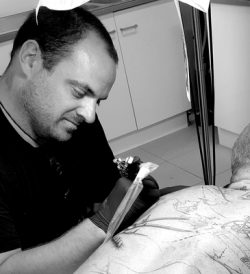 By Margaret Maccoll
Tattooist Jeffrey Robinson of Bigfish Tattoo at Tewantin is honouring his mother by offering free tattoos over mastectomy scars.
Jeffrey's mother Marie-Claire passed away from breast cancer.
He saw first-hand the effect of the disease on his mother and the impact on her of having a mastectomy.
"She didn't feel like a woman anymore," he said.
Now Jeffrey wants to help both men and women who have had mastectomies.
"I've wanted to put this in place four or five years ago. Now I'm in a position where I could help. There may be people who can't afford a tattoo. Breast cancer affects both sexes."
Jeffrey said he had the skills, the equipment and the experience of tattooing over mastectomy scars.
"For me it's my time I am giving and I'm more than happy to give time," he said.
Jeffrey hopes other tattoo artists will come on board and eventually there will be a worldwide network of tattooists willing to offer this service.