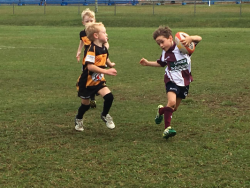 By Lucy Whitehill
NOOSA DOLPHINS
UNDER 6
The Under 6 Dolphins were greeted at University of the Sunshine Coast by some very relaxed, reclining kangaroos – always a good way to start the morning! The boys demonstrated some quick passing this week, with great teamwork from Henry, Tom and Mac, gaining ground for the Dolphins.
Arlo, Jaxon and Lincoln S did a fantastic job in setting up the tries, with try-scoring speedsters Luke and Chayse, just too quick for the opposition to catch. Strong defence from Lewis and Lincoln P helped maintain the great lead for the team.
Domino's Players of the Week: Tom and Lincoln S.
UNDER 7
The Under 7s have certainly had some ups and downs this week with their Coach Shane having surgery following a rugby injury and then teammate Sam breaking his nose while warming up on Saturday, but this did not stop this determined team, coaches and parents. They were short on players but the kids just kept going and going, scoring tries and tagging and kicking with all their might. The club farewelled players Rorke and Max and wished them luck for their future rugby.
Domino's Players of the Week: The whole team for awesome commitment.
UNDER 8
The Under 8 Noosa Dolphins defeated Grammar 1 – 55 to 15. Another entertaining performance from the Under 8s this week, the boys enjoying the slippery and muddy conditions. Will wasted no time finding the try line and continued to make noticeable impact in defence.
The strength of the Grammar side was underestimated at times, resulting in missed opportunities through the loss of ball possession in the ruck. The Dolphins worked hard together to increase their lead with further tries from Jackson, Lachy, Uli, Rory, Myles, Ryder and Josh. With big contributions to the win from Archie V, Xander and Jake as well as solid tackling displays from Harry and player of the week, Kase.