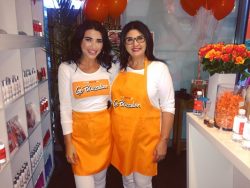 By Hollie Harris
The Brazilian Hut has been providing waxing and spray tanning needs for nine years. As a long standing business in Noosa, their reputation precedes itself.
The waxing specialists at The Brazilian Hut are experts in speed waxing. Whether you're looking for an upper lip wax or a full Brazilian wax, the experienced waxing specialist will ensure you are in and out in no time by using the highest standard or training and products designed for sensitive skin by a dermatologist.
Don't let speed waxing fool you, they are the founders of speed waxing in Australia, extremely professional and thorough- you're in good hands!
Visit Noosa salon and you will be swept away to Brazil, the origin of The Brazilian Wax, from the minute you walk in. Visit any one of their salons and experience the same perfected service each and every time. The Brazilian Hut's commitment to the consumer has never changed.
To book an appointment with this leading waxing company, visit the website www.thebrazilianhut.com.au or phone 07 5455 4445.