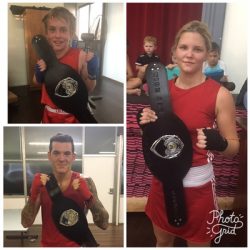 By Ron Lane
Last weekend saw another good result for the members of the Cooroy Impact Boxing Academy. Travelling to Bundaberg to contest the Wide Bay Championships with a team of seven fighters, Impact was unlucky when only four could be matched up. Unable to be matched three members, Luke Martin, Abbey Slavin and Page Robinson agreed to take part in exhibition bouts.
Coach Mark Evans was more than pleased with three coming home with championship belts; so a total of three out of four and the loss being a split decision.
"Young Cohen Robertson boxing in the 34 kg division continued to impress with a unanimous decision win,'' coach Evans said.
In the 51kg elite division, Taylah Robinson, recently returned from her two- week training camp in Colorado, boxed with plenty confidence to take a points win.
In the men's elite 75 kg division, Bryce Hegarty scored a comfortable win but Lachie Proctor dropped a split decision in what was probably the toughest fight of the night– with both boys taking an eight count in round two.
Meanwhile, there's good news from overseas. Impact's 60kg rising star Ella Boot, won the gold medal fighting in the Haringey Box Cup in London. Ella has fought twice in the U.K. winning both bouts. Travelling with the Australian Futures Team, she will now travel to Budapest, Hungary, and with 18 fights for 18 wins she is starting to fight on International level.
Next week will be a big one for Impact's Tyler Blizzard. Tyler will travel to the Gold Coast where he will take part in the Oceanic Tournament. Starting on Monday and going through to Thursday, this will be the final qualifying event for a place on the Australian team to fight in the Elite Men's World Championship. This event will take place in Hamburg, Germany, in August. We wish him well.
For Taylah Robinson, the two weeks spent in the Colorado training camp in the US was a great experience. Also with Taylah was Cartlin Parker formerly of Western Australia but now training under Mark Evans at Impact Gym. "We were training with fighters from England, Finland, USA and Australia; some of the finest boxers from all over the world; the gym was full of Olympians, a real learning experience," Taylah said.
Regarding the training Caitlin noted, "We had three sessions a day. We started with 6k of Interval runs and this was followed by sparring sessions, bag work, shadow boxing and skipping. All done with some of the world's best."
Caitlin at 21, who has been boxing since she was 16 and with a record of 55 fights, has represented her country countless times. We welcome her to our community.