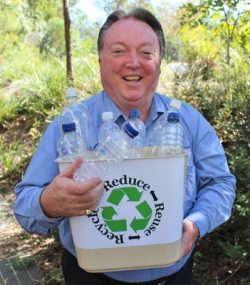 By Margaret Maccoll
A ban on single use plastic bags and a cash for containers scheme has been included in a Waste Reduction and Recycling Bill introduced by the State Government.
Noosa MP Glen Elmes said the legislation was very similar to policies announced by the LNP about 12 months ago and was "great news for the environment".
"It is pleasing to see that both major parties agree when it comes to reducing waste and protecting the environment," he said.
"Queenslanders use around one billion plastic bags every year and the average family collects more than 60 per week. Single-use plastic bags have an average lifespan of just 12 minutes and can take more than 1000 years to fully decompose, causing irreversible damage to both land and waterway environments.
"There are plenty of alternatives to the single-use plastic bag – by making a simple lifestyle change, local families can make a huge difference."
Mr Elmes said the LNP also committed to introduce a container deposit scheme.
The legislation is still to be assessed by the parliamentary committee and debated in State Parliament.