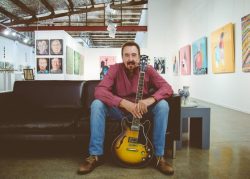 He's a guitar legend and Hall of Fame inductee who has played with the best of the best – and he'll be working his magic at The Bunker at the Imperial Hotel, Eumundi, on Friday 21 July. Louie Shelton will be supported by Melbourne jazz guitar maestro Andrew Toner and Chontia.
You'll know Louie's work when you hear it. He's had more signature guitar riffs and solos on hit records than any other session guitarist in history.
There truly are too many to mention, but some of his classics include, Boz Scaggs' Low Down, Lionel Richie's Hello, Neil Diamond's Play Me, The Jackson Five's I Want You Back, ABC and I'll Be There, The Monkees' Last Train To Clarksville and Valerie.
Some of the other artists Louie recorded with include John Lennon, Whitney Houston, Barbra Streisand, Marvin Gaye, Diana Ross, The Carpenters, Joe Cocker, Kenny Rodgers, The Mamas and The Papas, James Brown and Ella Fitzgerald.
Not only did Louie play guitar on Seals and Crofts greatest hits, Summer Breeze, Diamond Girl, We May Never Pass This Way Again and Get Closer, he also produced their many gold and platinum albums.
Some of Louie's other production credits include Art Garfunkel, England Dan and John Ford Coley, Dan Seals, Cory Wells (of Three Dog Night), Jane Oliver, The Southern Sons, Mother Hubbard and Nashville Guitars.
Don't miss this opportunity to hear the smooth guitar licks of a truly legendary guitarist.
For the Eumundi gig, Louie will be backed by leading keyboardist and music producer Parris Macleod, along with Bob Oliver (USA), and Berkley University drummer and Sunshine Coast session bassist Garry Ward.
Tickets are $30 (plus booking fee) through Oztix or at the Imperial Hotel, just call 5442 8811. Doors open at 7.30pm.