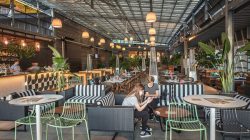 Peppers Noosa Resort and Villas is reknowned for its world-class dining experience in enchanting surrounds at the View Restaurant and Bar.
Whether you are a first time visitor to this breathtaking region or a long-time local of Noosa, a visit to the View Restaurant and Bar is hard to resist.
But this impressive space is also one of the largest conference and event facilities in the region, with flexible event spaces, delectable menus, the latest multimedia technology and the highest level of guest service.
Collectively, when View Restaurant connects with both the View Bar and the Macquarie Conference Centre, the entirety of these spaces can cater for up to 1000 guests. It is an airy, picturesque and stylish locale for a wedding reception, corporate event or cocktail party.
For the ultimate indulgence, combine the well-honed event hospitality with a luxurious accommodation option of private villas that are designed with entertaining in mind.
Think of Peppers Noosa Resort and Villas and the stunning function space above the treetops at View Restaurant and Bar for that next big function.
Send event inquiries to noosa.events@peppers.com.au or call 5455 2231.