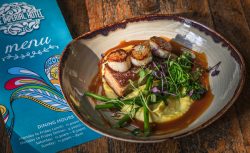 By Hollie Harris
A cornerstone of charming Eumundi, the heritage-listed Imperial Hotel has been welcoming locals and tourists since its opening in 1911. The friendly reception continues today with good old-fashioned table service, delicious food, cold beer and wine, and live entertainment.
The majestic Queenslander, with its sweeping verandahs and stylish decor, overlooks the leafy main street bustling with the activity of the town's creative community.
The hotel now has three performance venues with quality staging and PA systems, and decent decibel limits – beautiful spaces to experience performing artists in their element.
Dining out is always a fun and delicious experience at The Imperial. Flavours that leap off the plate and family favourites are a-plenty. The menu is carefully created to tantalise everyone's tastebuds and budgets.
A must-try is the pork belly and scallops on a saffron cauliflower puree and salted caramel sauce. This really is as good as it sounds, folks – melt in your mouth pork belly with that fine crackling edge, exquisitely tender scallops and the unique and decadent rich caramel flavours in the sauce is quite a taste sensation. Crunchy broccolini brings this dish together as a winning winter treat.
The rest of the menu is filled with tasty burger and taco options, wood-fired pizzas starting from $10, juicy steaks and share meals for the whole family to tuck into. The crispy chicken wings are a great snack with a few beers or to keep the kids happy in between trips to the most amazing kids room you'll find. All ages of kids love spending time in this fun space, making a meal out a truly relaxing experience for mum and dad.
Fill up on roasted beetroot and feta risotto or Balinese style grilled pork ribs or just take a seat by the band with a chilled bottle of vino and while away the afternoon hours.
The Imperial Hotel's courtesy bus operates Friday and Saturday nights from 5pm and Sunday from 2pm. Phone 0467 414 171 to book. How easy is that?
Dine at The Imperial on Mondays to Fridays for lunch from 11.30am to 2.30pm and dinner from 5.30pm to 8.30pm, or Saturdays 11.30am to 8.30pm and Sundays 11.30am to 8pm.