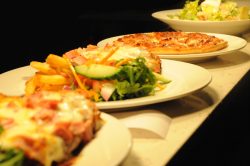 By Hollie Harris
Jason, Janet and Sharlene, of Pizzami Gourmet Pizza Bar, love amazing pizza. This Peregian Beach pizza joint proudly keeps to the basics of pizza making in order to serve the highest quality pizzas to their customers. Their goal is simple, but not meaningless. They love the beach and they love people, so they decided to blend the three of their passions together. Making amazing pizza all starts with a good foundation … the dough.
Pizzami's dough is made fresh every single day, and by using quality products, they produce a dough which has unmatched taste and a perfect consistency – and you can taste the difference.
If you like it spicy, you must try The Inferno pizza; sambal chilli, jalapeno peppers, salami, onion and capsicum. If you like it posh, you must try the Posh Chicken pizza; chicken, Spanish onion, topped with fresh avocado, camembert and cranberry; or if you like it cheesy, you must try the Quatro Cheese pizza; goats cheese, feta, parmesan and mozzarella served with a lemon wedge on an olive oil base … or simply get stuck into their delicious pastas, salads and wings.
They really are committed to serving you excellent food with the friendliest, happiest, service every time from fabulous staff who absolutely love what they do.
Check out Pizzami on the Corner of Kingfisher and Heron Steet, Peregian Beach, or call 5471 2300 and pick up dinner on the way home.