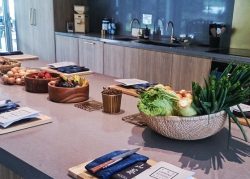 By Hollie Harris
As an average cook at best, whose only knack in the kitchen is burn things, I trotted off to cooking school. I literally went to class for the day and learned how to cook. This was no ordinary class room though – state-of-the-art kitchens and equipment- with the very gifted Zeb Gilbert from Wasabi, sharing his endless knowledge of all things culinary to our small group of seven gave me the assurance that I would be taking home with me some mad cooking skills.
The Cooking School Noosa is nestled in beside the Noosa River in Quamby Place, and they offer a wide range of classes to suit your needs led by Wasabi Restaurant chefs or guest chefs from all over the country. My favourite style of cooking is Asian, without a doubt, so the Modern South East Asian class was right up my alley.
The table was piled high with fresh pickings from Honeysuckle Hill Farm as Wasabi and The Cooking School Noosa believe in paddock to plate food tastes best and is responsible to the planet as well as our local economy.
The endless fountain of knowledge of owner and executive chef Zeb Gilbert was worth its weight in gold. He chatters along the way, throwing out tips that blew me away every time. I learned how to bone fish, section a chicken, make a curry paste from scratch, smoke fish and most importantly I learned who to use every single piece of meat off the bone of chicken or a fish, including the frame. I learned how to make my own real ice cream, fresh stocks, roll dumplings and how to plate up a variety of foods. The list goes on, but you get the drift.
Zeb is made for this stuff. He is as passionate about teaching it as he is committed to being sustainable and mindful of how we buy and cook.
"When using fish, spread the love. Use different fish to keep sustainable. If we all buy the big fish all of the time, it throws things off balance. We have a huge variety of great fish in our local region," Zeb says.
The seven of us worked together to create a menu that scared us all in the beginning, to say the least. Each process is broken down so simply and with everything at our finger tips and expert help on hand, every dish with perfection.
Our task was to make Spanner crab and pork dumplings in a star anise and ginger broth, smoked fish with sichuan pickled cucumber salad, Massaman curry with fragrant rice and monkey ear mushrooms with seasonal greens. The decadent palm sugar and coconut tarts were almost played up by the most beautiful orange and cardamom ice cream.
After hours of kitchen hustle and bustle, loads of laughs and plenty of excitement and noise, we sat over the glistening water of Noosa River. The silky sake warmed our bellies and we breathed in the feast of food before us. The flavours were out of this world. Sweet, salty, sour, hot, cool – it was all there. Balanced and delicate, every bite was a truly special moment and we all fell silent. Without a doubt, this was a food moment that would last a lifetime, surrounded by the most exquisite azure waters and fish swimming below we sat and indulged in our creations. We rolled out of school with the fullest bellies and pocket loads of knowledge and a huge sense of accomplishment that we nailed everything on that table to perfection.
The Cooking School Noosa is hosting a range of classes coming up – Classic French is on this Sunday, then there will be Dumplings and Buns, Artisanal Bread Making, Contemporary Japanese. Jump online at www.noosacookingschool.com to find out dates. This is something everyone should experience. I have my eyes on the Japanese class … .or the breads … .