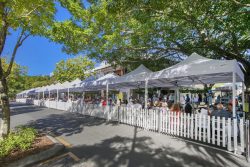 Tourism Noosa announced on Monday it will be running the Noosa Food and Wine Festival in 2018 taking over from the 2017 Event Organisers, Under One Roof.
Tourism Noosa's Chairman Steve McPharlin says Tourism Noosa has made the decision to resume management of the event and is optimistic that, with the support of Noosa's food and tourism industry it will grow the event to new heights.
"We thank the team from Under One Roof for their efforts in the delivery of the 2017 festival and wish them all the best in their future ventures," he said.
Maria Crews from Under One Roof said that her team was proud of the results delivered for the 2017 Festival, which delivered a significant step change on the 2016 Festival.
Steve said next year's event, which will take place from 17-20 May, will continue to build on the new format of the festival introduced in 2016 and 2017 by collaborating with Noosa restaurants, visiting chefs and hosting events in key Noosa locations.
"Noosa has long been known as one of Australia's leading food destinations and Tourism Noosa will ensure this reputation is protected and enhanced," he said.
"Tourism Noosa is excited to work with key partners to deliver a successful festival for Noosa in 2018 and beyond."
The festival program will be released via www.noosafoodandwine.com.au in the coming months.