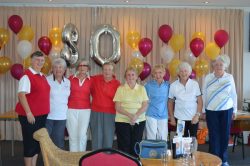 First conceived 80 years ago, the then Tewantin Noosa Golf Club has developed from the original nine-hole course, then 12-hole and finally 18 holes.
The Noosa Golf Club marked its anniversary with a range of events.
General manager Allan Harris said the club was fully booked for the Friday dinner with more than 200 members in attendance, all commenting on the great food and service.
And members draw prize winners were Rayner and Alan Summers and James Lonie.
On Sunday the club hosted a jazz band put together by local jazz identity John Murray.
"The afternoon was well patronised, with everyone enjoying the mood," Allan said.