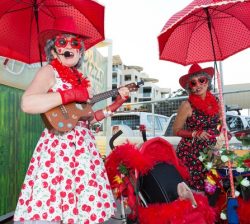 The hilarious and talented Cherry Ripe from the Cherry Ripes Musical Comedy Duo hails from the country in Kandanga in the Mary Valley.
Her quirky style and personality have made her a known face in the Noosa Shire on and off the stage.
How did you get into music?
My sister and Ruby and I used to play at the local church in Kandanga.
I played the organ and Ruby played the wash board.
The locals kept telling us we should be on the stage but we didn't realise they meant the last stage out of town.
We used to entertain the locals at the pub and they'd pay us to stop.
We were both teachers at one stage. I retired due to illness and fatigue – the students were sick and tired of me – and Ruby retired, too, due to all the tantrums and bad behaviour – the students couldn't put up with her behaviour any longer.
Who inspires you?
Our dogs. They are so patient and tolerant. They seem to be the only ones who don't run away when we sing. They inspire me to keeping writing songs and keep belting out the naughty toones.
What CD are you loving right now?
Our Cherry Ripe CD called Cherryatrics. We have some great songs I wrote and sing and play ukulele and keyboards and Ruby accompanies me on the drums and with great back up harmonies.
They include songs about my Facebook addiction, on-line mating, older ladies, and the comedy version of Hallelujah which would put a smile on Leonard Cohen's face.
Our album is better than a chook raffle.
I'm also loving the newest song I wrote called Grow Fruit, Grow Love. A song written for the Buderim Urban Food Street. I like to write songs about local causes as well as the funny parodies.
It goes like this –
Let's grow food on the footpath,
Let's grow food in the park,
No more lawns to mow each week
Or trees that drop their bark.
Lawns waste lots of water,
Sun and good soil too;
Better to grow some veges and fruit,
Food for me and You.
Most memorable gig?
The Adelaide Fringe Festival last February. We performed 18 shows in 10 days. We were lucky enough to be asked to perform live on an ABC radio broadcast to the Scotland Fringe Festival.
The next best gig is coming up on 2 September at the Maleny Music Festival. It's a wonderful festival everyone should get to. We performed there last year and it was a hoot.
How would you describe your musical style?
Well, some people call the genre of our songs a 'fusion of folk, country, blues and parodies', but I tend to think of it as more of a 'conFusion'.
What's something on your bucket list?
To find a fella! I'm lookin' for one who likes wrinkly, saggy boobed, grey haired old ladies who like to have lots of laughs about growing old disgracefully.