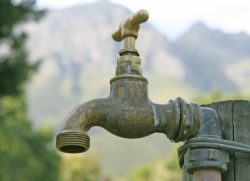 By Margaret Maccoll
Many Noosa residents who are reliant on tank water have run dry and been told they will have to wait for weeks for new supplies.
Water carters are flat out trying to keep up with demand with orders now backed up for two to five weeks.
Michelle Cain of Weyba Water said she hadn't seen such a bad situation in the 12 years that she had lived in the area and been in business.
"I think people have been waiting for rain and usually we do get rain. I think it's catching everybody off guard. It's not just small tanks its people with big tanks of 80,000 litres.
"It's quite sad to have people completely out. You try to help them but you're not able to assist the people today."
Noosa Water Tankers is booked out for five weeks, having increased its cartage from two to three loads a day to eight to 10.
"A lot of people are desperate and there's nothing more we can do," a spokesman said.
Colin White of Blue Waters Deliveries of Cooroibah said that the situation was made worse because the mains point at Noosaville had been broken for a week reducing their water pressure to a third of the normal rate.
"It's taking us 35 minutes to load – it usually takes us 10 minutes," he said.
"We're getting an average 125 calls a day from people without water. We had this situation before and had to open up sports centres for people to have a shower."
Some people have taken to social media to seek help and others are paying for water to be delivered from outside the region.
Unitywater customer and community executive manager Judy Bailey said the company was aware that a water main had broken under a road last week.
"Jobs are prioritised according to a number of factors including impacts to customers, impacts to the environment, rate and volume of leaks and safety of staff and the community," she said.
"The leak has been isolated but, as the break is under the road, we are working with Noosa Council to arrange traffic management and undertake the repair. The repair is planned for Thursday 14 September."
Ms Bailey said the fill station was operating at about two thirds of its capacity and apologised for the inconvenience.
"Just eight minutes away is our Tewantin fill station which we invite our water carrier customers to use," she said.