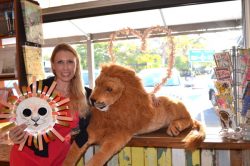 By Hollie Harris
Join a special children's book launch at the River Read this school holidays with local children's author Emma Middleton.
Local picture book author Emma Middleton will launch her debut picture book The Lion in our Living Room on Saturday 30 September at The River Read Bookshop from noon to 1pm.
Emma will present a fun and interactive workshop involving storytelling, art demonstrations, puppetry, craft and song.
The Lion in our Living Room has been receiving excellent reviews; 'A perfect picture book for reading aloud.' Thuy On (The Big Issue)
The story is entertaining young audiences, from the very first page when Tom and Tilly's dad playfully warns them to, '…Be careful at the door, you never know who might come knocking with his giant paw.'
As we wonder if the mighty lion will come today, Briony Stewart's detailed illustrations cleverly provide us with clues; the swish of a tail, or a revealing shadow.
When the mighty lion finally arrives it is learnt this is no ordinary lion. This is daddy lion, who plays rollicking games and reads wonderful stories.
This beautiful rhyming picture book for children from about three to seven years celebrates the love between parent and child, the power of imagination and the incredibly fun-filled delight of anticipation.
RSVP to The River Read at enquiries@theriverread.com.au or (07) 5473 0483.