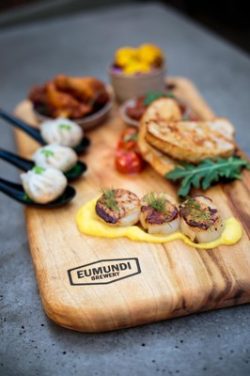 Head chef of The Imperial Hotel, Cale Dempsey's latest menu was created to complement the brand new beers available – Eumundi Brewery Lager and Pale Ale.
There's a real focus on share plates in this menu and the fresh homemade quality will keep you coming back time and time again.
Share plates include avocado and haloumi bruscetta on sourdough; barramundi spring rolls with citrus soy dipping sauce; American-style wings with blue cheese dipping sauce; flash fried salt and pepper calamari
and vegetable gyoza with wakame.
There's a fine selection of burger options to go alongside your brew such as:
Wagyu beef, chicken and bacon or gourmet vege, a knock-out rib fillet steak sandwich or go for the crispy fried barramundi, vegie tacos, or gourmet pizzas – all 100 per cent housemade with a signature dough recipe.
Drop in and sample the new beers available straight out the Eumundi Brewery and grab a tasy feed too!