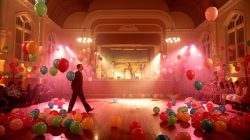 By Hollie Harris
Gympie is about to shine the light on short film in a big way by bringing award-winning work to South East Queensland where the 10th Heart of Gold International Short Film Festival will take place from 5-8 October.
Film lovers of all ages from families, weekenders and students, will flock to the Gympie Civic Centre to watch more than 130 brilliant short films – 90 of them screening in Queensland for the first time.
Heart of Gold is the biggest short film festival in Queensland and is known for its unique mission and structure.
Films screened at the festival are included because they have the ability to deeply resonate with the viewer in an inspiring, heart-warming or thought-provoking way.
This year, Heart of Gold has a special theme not only to celebrate the 10th festival but also the 150th year since gold was first found in the Gympie region.
Discovery will play as a major aspect of the festival – Heart of Gold wants to shine a light on sidelined topics, peoples or regions of the world.
Heart of Gold also features its films with the taste of the community in mind using its unique two-part screening system.
Films are filtered down through Emily Avila, the artistic director, and are then taken to lounge rooms across the region where local screener groups judge and choose what goes in the festival.
This doesn't mean the films are all the same, though. The program is jam-packed with many different genres.
From the Coffee and Comedy and Happy Hour sessions that are set to have their audience in stitches, to the International Festival Highlights session with all the award-winning shorts from around the world – there really is something for everyone.
On Sunday, kids are put first and foremost for the Family Day with drop-in drama workshops from Shake and Stir Theatre Company, family friendly sessions and animation meaning it is all set to be the perfect weekend treat for the kids.
Saturday's program has something a little extra in store for its student audience – a music video masterclass with Nick Waterman and a range of stand-out sessions, including Q and A sessions with filmmakers at the festival.
Friday also holds a workshop suitable for all – the Folktale handheld devices workshop.
This workshop demystifies handheld filmmaking technology and enables participants to create beautiful short films which are ready to share with loved ones.
This is held in partnership with the creators of Folktale, an app that turns videos shot on a smartphone or tablet into an easily edited and impressive short film.
Heart of Gold will also be hosting very special guest Michael Caton for a Q and A session after the special feature of Three Summers presented by Transmission Films.
He will stay to help congratulate all the winning filmmakers at the Awards Ceremony celebrations.
The energy at the festival will be truly electric filled with eager audiences as well as filmmakers from all around the world coming to this regional arts hub to celebrate their film's selection and to attend the glamorous Opening Night Gala, held in an immersive gold mine installation that has to be seen to be believed.
The Heart of Gold International Short Film Festival will be held at the Gympie Civic Centre, 32-34 Mellor Street, Gympie, 5-8 October.
For more information visit www.heartofgold.com.au.