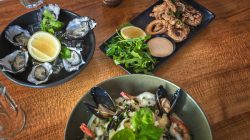 Kicking off spring with a tasty new menu this week, the Peregian Beach Hotel is the perfect place to be on a warm Sunday afternoon – chilling under the shade of the Pandanus trees.
Enjoy tasting the local craft beers on tap.
Rotated regularly they showcase 'seasonals' and 'limited release' such as 10 Toes (Alexander Headlands), Brouhaha (Maleny), B alter (Gold Coast), and Stone and Wood (Byron Bay).
The hotel is a huge supporter of local music and there is a consistent schedule of live music on Fridays from 6pm, Saturdays from 3pm, and Sundays from 3pm.
There are also mouth-watering bar snacks and pizzas until 5pm.
Leashed dogs are also welcome in the outdoor area.
The sports bar is the best place to watch the game with two TAB terminals, big screens playing FOX 1, 2 and 3, and Sky 1 and Sky 2.
For a great place to catch up with friends and enjoy great food, beer, wine and cocktails in family friendly environment, the Peregian Beach Hotel is the place to be this spring.
The Peregian Beach Hotel is open seven days a week for lunch, dinner or in-between – with an all-day menu offer.
Call 5448 3111 to make a booking.