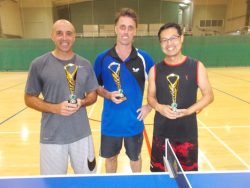 By Bruce Blakemore
NOOSA TABLE TENNIS
After six intensive qualifying rounds in the 2017 Singles Championships, the top four in each grade was decided and there were no real surprises except for B Grade where one or two that narrowly missed out could have been real contenders.
A Grade – Roger Gore, Kye McDonald, Jordan Brown, Steve Gardner.
This was perhaps the best line-up club members were to witness in a final! High quality and exceptional rallies were the norm but Kye was on fire producing his best, even taking out the season's undefeated and clear favourite Roger in three straight sets. There were a few close calls in the doubles for Kye but this was his night.
B Grade – Craig Smit, Martyn Clarke, Paul Newall, Jonas Campbell.
Brave man to predict this one and even after two rounds of singles and doubles it was far from decided. It ultimately would come down to Martyn and Paul that were conveniently opposed in the last doubles rubber of the night. With all other matches complete everyone witnessed a very jubilant Paul claim victory, especially satisfying considering that even making the finals was in doubt.
C Grade – Wendy Byrne, Harrison Potts, James Zhang, Wayne Lilley.
Harrison made his presence felt early by brushing aside wily Wayne but James also quickly made it clear he was going to contend by outlasting season's front-runner Wendy. The face off between Harrison and James in the singles was to ultimately decide the winner and in true finals style a five setter ensued with each exchanging classic forehand drives with James narrowly surviving.
Noosa Table Tennis Club's next competition starts shortly and it is a great opportunity for any interested players to become involved.
The club is now based at the Noosa Leisure Centre at Wallace Park next to the library. Competition is on Wednesday nights from 7pm and social/senior play is held Monday, Wednesday and Friday mornings from 10am till noon.
Call 0432 049 524 for any further information or check out the Facebook page.