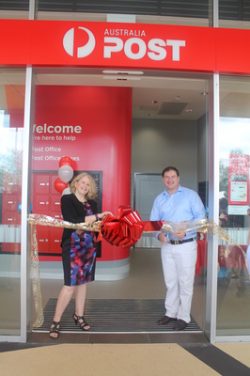 In an age where letter writing is in steep decline, Australia Post has invested almost $500,000 in a new post office which last week was officially opened at the Noosa Civic Centre, Noosaville, by Wide Bay MP Llew O'Brien.
Australia Post state manager Pauline Davis said the business offered a range of innovative eCommerce services as well as trusted services, such as passport, tax file number applications and package delivery to meet growing demands.
"Online shopping in Australia continues to grow, so the introduction of a new post office in Noosaville provides shoppers with access to postal services six days a week in a new, modern environment," she said.
"We know online shopping is very popular in Noosa, growing at almost 16 per cent year on year. Popular categories for locals include health and beauty items such as cosmetics, supplements and vitamins, up 43 per cent, as well as variety store items, also up by 43 per cent.
"Our customers' needs have changed substantially over time, and our new Noosaville Post Office is another great example of how we're changing to meet those needs."
The new store has free 24 hour parcel lockers for PO Box holders to make it even easier for customers to pick up parcels at a time that suits them and out of hours parcel collection from the parcel hatch from 6am-9pm Monday to Friday.
There is also bill paying, banking and travel services including foreign currency exchange, travel cards and insurance.