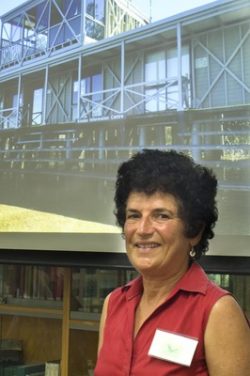 By Margaret Maccoll
After six years of fighting to retain the Kinaba Information Centre in public ownership, the certainty on the area's protection for the Friends of Kinaba group may rest with the outcome of the State Government elections.
The centre, located where the Kin Kin Creek meets Lake Cootharaba, was opened in 1979 by then Premier Sir Joh Bjelke Petersen, and named after former Queensland Treasurer Sir Thomas Hiler who contributed $70,000 towards its $300,000 construction.
It was built following the State Government declaration of the Cooloola National Park and following a fierce campaign to stop sand mining in the area.
When built, it was staffed by two rangers from Queensland Parks and Wildlife Service (QPWS) and received 50,000 visitors in its first year.
Friends of Kinaba spokeswoman Ada Medak was guest speaker at the Noosa Parks Association Friday Forum.
Ada said the rangers conducted tours, kept records of the area, maintained the site and provided education to visiting school students.
She said the region lost favour with the public as popularity moved to the beaches, and by 2010 the information centre had become run down, lost its full time ranges and its future was in question.
In 2011, a meeting was called by local residents who wanted it to remain a public asset, and had discovered there was strong commercial interest in it.
By 2013, the Friends of Kinaba had gained QPWS recognition that allowed them to work at Kinaba to the park's specifications.
Ada said the diverse group included engineers, builders, teachers and painters who used their skills to repair and maintain the building.
"We had a window of opportunity to slow down the advance of tourism to this sensitive area," she said.
"It's the only part of the Noosa River that's still the way it was 50,000 years ago."
Last month the group expected to finalise a Memorandum of Understanding with QPWS to give the group security and tenure to be carers of Kinaba to ensure the information centre remains in public hands. As negotiations continued on the MoU, the government moved into caretaker mode, and it now awaits the outcome of the election.