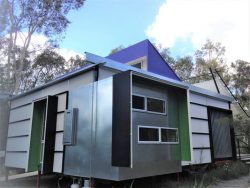 By Margaret Maccoll
The tiny house revolution, a growing trend among those seeking an affordable smaller home and reduced environmental impact, has made it to Noosa.
In a bid to provide both affordable housing and meet the SEQ plan requirement for an extra 6400 dwellings in the Noosa Shire, councillors on Monday voted in favour of allowing owners to build an additional small detached dwelling on their properties.
While the Noosa Plan already allows for a 65sqm dwelling attached to a house, this week's amendment to the plan allows for a 65sqm detached dwelling of up to two bedrooms to be built on a property as a second dwelling.
Councillor Ingrid Jackson said the move was one way council could address affordable housing in the region where considerable upward pressure on property prices and rents seemed set to continue.
"Of low income Noosa families who rent, half experience rental stress, substantially more than in Queensland as a whole," she said.
"This will increase the availability of rental housing for low income households, including workers in our tourism, hospitality and retail sectors."
Council's Planning Scheme Project Manager Raul Weychardt told council's general committee meeting there had been 38 applications for such dwellings in the past three months.
He said council expected about 900 such dwellings would be constructed in backyards if the amendment was introduced while the possibility of building them could be reached just over 14, 800.
Councillors queried the stress of added dwellings on council services, street parking and traffic congestion and queried whether people would use them for permanent or holiday letting.
If the amendment is passed at council's ordinary meeting this evening, council will forward the amendment to the minister for review, undertake public consultation and adopt the proposed amendments subject to submissions raised.