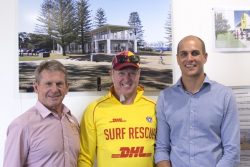 By Margaret Maccoll
Noosa Heads surf lifesavers were keen to dispel misconceptions residents have raised about the proposed Peregian Beach Surf Club when they held an open day on Saturday.
The club wants people to know:
* They have no plans to establish a casino at Peregian Beach.
* There will continue to be lifesaving services at Peregian Beach. If Noosa Heads SLSC stopped managing Peregian Surf Life Saving Queensland have told Noosa Council they will take on a lifeguard service, though funds would be needed to cover them.
* The club has two options under which it could lodge an application to relocate or expand outside the existing lease area requiring either the Department of Natural Resources and Mines to change the boundary or purpose of the reserve on which it is located or the council determining the reserve location is no longer appropriate for surf lifesaving purposes.
* The proposed relocation of the surf club to the skate park would not be affected by state coastal hazard mapping.
* Any expansion of the surf club's existing lease will require native title negotiations and cultural heritage clearances.
* Noosa Heads SLSC has been in discussions with the Australian Skateboard Federation, the Australian Skateboarding Initiative and Chiggy's skateboarding about the current skateboarding facilities and the possibility of developing an improved facility elsewhere within the park or at another location.
Noosa Heads surf club CEO Byron Mills said they had been in talks with Peregian Beach Community and Business Associations and Community House and continue to work through issues raised to find solutions.
He said the skate park site had been raised as a natural site for the building because of its view over the water, and it already contained a structure of similar height.
Noosa Heads Surf Club president Ross Fisher said while the town planning aspect was of particular importance to the village, the surf club saw the safety of swimmers as their highest priority.
Ross said direct access to the beach for lifesavers and resources to sustain the club through the development of a nipper program would provide a good base for the club's future.
"We're looking at building a club for the next 40 to 50 years," he said.
"We think lifesavers should be here."
Town planner Jack Lewis said the build was not just for surf lifesaving but would be a community facility.