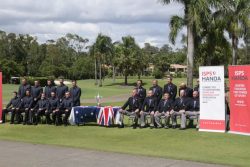 By Margaret Maccoll
Australian and British war veterans teed off at Noosa Springs on Monday in a unique golf tournament involving men who have overcome traumatic injury.
It's part Invictus Games, part Ryder Cup. And it's the most important sports event on earth for 20 ex-servicemen who have already proven that they are genuine heroes.
The Clyde Pearce Cup played from Monday-Wednesday will be the third in the series. The first took place on some of Melbourne's finest golf courses in 2015, and the return match was conducted last October at Celtic Manor Resort in Wales, where the UK team again proved too strong. Clyde Pearce, a Tasmanian grazier, was the first native-born Australian golfer to win the Australian Open in 1908 at the age of 20.
In World War I, Pearce served with the 10th Light Horse Regiment at Gallipoli and on the Western Front, rising to the rank of lieutenant. He was one of 7000 Australians killed in the Battle of Messines, near the Belgian town of Ypres, in 1917.
The tournament came about through the combined efforts of Soldier on Australia and Britain's Battle Back Golf – two organisations whose goal is to help secure the futures of those who served their nation.
Like the organisers of the Invictus Games, they believe in using the power of sport to inspire recovery and support the rehabilitation of wounded, injured and sick veterans.
Mark Brady, general manager of Noosa Springs Golf and Spa Resort, said he was delighted that Noosa Springs was able to host such a significant event – particularly as it was the first time it had been staged in Queensland.
Ten golfers from each country, with varying skill levels and disabilities, took part in the three-day event, which will be conducted under a different format each day – Ambrose, foursomes and singles.
The Clyde Pearce Cup will be followed by a charity golf day today featuring members of the two national teams and members of the public.