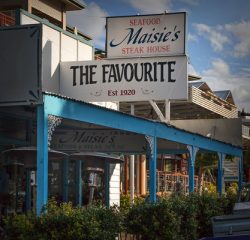 By Hollie Harris
Maisie's Seafood and Steakhouse is a great value, family-friendly restaurant which has become a bit of a Noosa icon.
The friendly team is always willing to go the extra mile for diners, offering top-quality dishes made using local produce.
Located along the iconic waterfront on the Noosa River on Gympie Terrace, you can enjoy a drink from their wine list and watch the boats cruise along the river.
Good old-fashioned table service in an idyllic setting outdoors or the warm and welcoming indoor seating, make this family owned and locally operated restaurant a local favourite.
The friendly, relaxed atmosphere, alongside a rich Australian history, adds to the ambience of Maisie's Seafood and Steakhouse.
Dishes are freshly prepared and delivered quickly to your table, ensuring that you enjoy the finest quality cuisine each time you visit.
With a menu offering a large range of dishes, there is something delicious to satisfy the whole family.
Find Maisie's Seafood and Steakhouse at 247 Gympie Terrace, Noosaville or phone 5449 7497 to make your reservation.