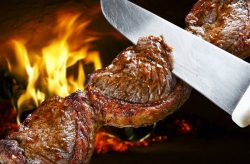 By Hollie Harris
Did you know Samba offers a 100 per cent gluten-free menu? Since opening its doors in 2010, Samba on Gympie Terrace in Noosaville has become so much more than a steakhouse, more than a tasty meal by the sparkling Noosa River. Samba has become a state of mind.
Whether dining solo, with friends, or family, the experienced and attentive staff will see to all your needs, while you sit back and relax.
Samba serves all you can eat feasts, as well as a-la-carte options.
The chefs are passionate about carefully selecting the freshest produce from local suppliers. Serving up generous portions earned Samba a solid local reputation.
They are fully licensed and known for their delicious Brazilian cocktail, Caipirinha, so you can take in a fiery sunset over the Noosa River while enjoying a drink.
Continuing the best possible service and quality meals at a reasonable price is Samba's key mission.
Try their latest taste sensation option called Taste of Samba with three meats of your choice and three delicious sides for only $28.50. With more house made desserts and even better side dishes, it's time you re-visited Samba.
Nowhere else has the upbeat vibe quite like Samba – located at 251 Gympie Terrace. Phone 5449 9577 for your booking.