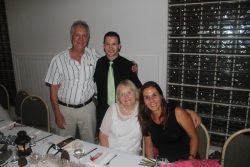 By Ron Lane
On Friday evening at the South Pacific Resort all members of the Sunshine Coast Martial Arts Karate Budokan International, gathered for the 2017 Karate Awards Dinner.
Hosted by Senior Instructor/Director Sensei Bryan Dukas, he acknowledged the fact that with so many parents in attendance it was indeed a good indication as to the strength and success of the club.
In his welcome address, Bryan introduced special guests of the evening, parents Michael and Marion Dukas who were visiting from South Africa via Japan. This announcement was well received for apart from being the father of the host, Michael had the very rare distinction of recently being upgraded to the very high level of 8th Dan, by Japanese Senseis during his recent visit to Japan, for the World Shotokan Karate Championships and training seminars.
In his response Michael jokingly made reference to his journey from the grade of Black Belt 1st Dan to that of Black Belt 8th Dan.
"It is something of which I am naturally very proud but, this rare distinction took no less than 43 years and 2 months," he said.
Further to this he added that to his knowledge it was the first time that a father and son had on the same occasion had been graded to the upper ranks of 8th Dan and 6th Dan respectively in Japan.
Sensei Bryan then thanked all who worked to create a feeling of family environment.
Regarding the club's achievements for the year there were many, highlights of which were winning medals at world, national and state level.
Following the presentation of club awards, it was announced that the Budokan International of Noosaville, has been named the Queensland Club of the Year.
In a sport in which code of ethics, self-discipline, respect for elders and non-violent way of life is strictly adhered to, this is indeed an outstanding achievement.