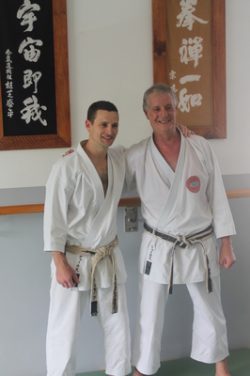 By Ron Lane
At noon on Saturday, fifty five members of the Martial Arts Karate Budokan International in Noosaville, ranging in age from 8 to 74, were in attendance to take part in a special seminar organised to cover the visit of Michael Dukis, 8th Dan Shotokan Karate.
For club members this was the opportunity of a lifetime as Sensei Dukas, who hails from South Africa, is world renowned as a teacher of martial arts. For Dukas it is a family affair as his son Bryan, who migrated from South Africa and settled in Noosa in January 2016, now runs the Budokan and is himself now a 6th Dan. To have a father and son holding such high grade (obtained under Japanese) is indeed unique.
Back home in South Africa, another son Warren is also involved, being a black belt as well as having represented his country at international level. With the administration support of Marion Dukas, wife of Michael and mother of Bryan and Warren, it is easy to understand that success in the art is now a constant companion.
With both father and son having trained and studied in Japan on several occasions, it is easy to understand their attitude to dedication and self-discipline; two virtues that are indeed necessary for those wishing to succeed in the art of Shotokan Karate.
It was at the age of 17 that Michael started in the art.
"It was when I went away from home to study that I really became interested; it wasn't easy because at the time Judo was the thing. At first I trained twice a week but then I really became serious and started training every day." Then in 1973 his dedication payed off. He became the South African All Stars National Champion for Kumite Fighting in the Under 70kg division.
In 1983 Michael did his first trip to Japan and since then he visits on a regular basis. It was during that trip that he entered the All Japan Championships fighting his way through to the fifth round.
"In those days the Japanese were slow to accept westerners and you could see that they were asking themselves, are they serious? It was when you returned for a second time that they realised you were and this generally changed their attitude."
Regarding son Bryan, born in 1978, Michael started training him at age five and finally in 1993 took him to Japan for the first time. During this visit he underwent a tough two weeks of very intense training after which he was graded Black Belt.
For Michael during his early South African training he was fortunate to train under the legendary local Sensei Stan Smith, a teacher of worldwide repute; it was from this man that he received great encouragement and inspiration.
It was under his teaching that he obtained his Black Belt and 3rd Dan. His grading from 4th to the present 8th Dan came under the Japanese.
Regarding his personal approach he said, "Competition was never my priority I was totally dedicated to mastering the skills. Some people take the belt colours serious but to me belts," he said with a bit of a laugh, "are something that keeps your pants up; it is the ethics of Karate that count – perfecting the skills, the self-discipline, respecting your elders and living a non-violent way of life; this is what it is all about. There is a saying amongst some Sensei that your Karate really starts at 1st Dan – then you begin to learn.
"One of my proudest moments was when I learned that Bryan – on one of his visits to Japan – was invited to join an elite group of students to attend a ten day training camp in the hills outside Tokyo. He was the first westerner to receive this honour.''
For the seminar which covered some three hours (with occasional water breaks) Michael was assisted by his son Bryan and with silence and complete concentration being the order of the day, much was achieved. Moving amongst the students he would correct their stance, the importance of balance and above all concentration.
It was interesting to note that his occasional use of humour during instruction was well received by the large group of parents who were in attendance as observers. Definitely an occasion to remember.