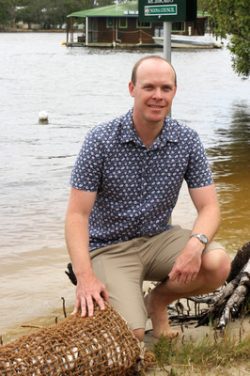 By Margaret Maccoll
Oysters – people either love them or hate them.
Noosa so prizes them that $1.5m is being invested to increase their numbers, but it's not just to aid the popular bivalve mollusc.
University of the Sunshine Coast (USC) marine ecologist Dr Ben Gilby said oysters would improve Noosa River's biodiversity by filtering the water and providing both food and habitat for fish and other invertebrates.
Last week a USC research team headed by Professor Thomas Schlacher and including Dr Gilby completed the siting of 14 oyster reefs, each containing nine biodegradable coconut mesh bags filled with oyster shells donated by Kooringal Oysters and Mooloolah River Fisheries.
Noosa Mayor Tony Wellington said the aim of the project in improving the biodiversity of the river was not just for the health of the river but for the people using the river.
"This river plays a very important role in the lives of many locals," he said.
He said with the success of the project might come the opportunity for a commercial operation in the river farming oysters under the jurisdiction of the State Government, something that would benefit the community.
Sites for the project were selected for different attributes and results should reveal those most favourable.
Dr Gilby said the project expected spat or oyster larvae found to be naturally occurring in the river, will settle on the created reefs and grow, with the structure securing itself to the riverbed while the mesh disintegrated.
He said similar projects had been successfully undertaken in other parts of the world including California.
Dr Gilby said biodiversity results would be almost immediate while the establishment of oyster reefs might be several years away.
The reefs were conceived by the Noosa Parks Association (NPA) and the Thomas Foundation (TTF), following an expert workshop convened by The Nature Conservancy (TNC), who had initiated similar projects in the USA. Construction of the reefs is funded by the Noosa Biosphere Reserve Foundation (NBRF), the University of the Sunshine Coast (USC), NPA and TTF.
The project has built on by research completed by Dr Ruth Thurstan in 2015, then of University of Queensland, which found fish catches had experienced a gradual decline, "that could be related to a number of factors including urban development, loss of fish habitat (including oyster beds) and increasing fishing pressure (recreational and commercial)" and oysters had "become commercially extinct by the 1930s".
Dr Gilby said the team had conducted a baseline fish count using underwater cameras over the past 18 months and monitoring would continue on the progress of the oyster reefs.
"We're committed to bring back opportunities for locals to catch or buy a wide range of delicious seafood – part of Noosa's way of life not so long ago," NPA spokesperson Bryan Walsh said.