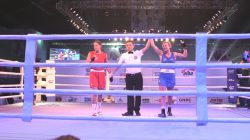 By Ron Lane
For Ella Boot of the Cooroy Impact Amateur Boxing Academy, 2017 would definitely have to be a year to remember.
First it was a gold medal at both the state and national titles, then gold at the Junior Commonwealth Games in the Bahamas; and finally this month the ultimate – a bronze medal in Women's Youth World Amateur Championships.
Held in Guwahati, India, it was the tournament that bought the best in the world together. To win a medal speaks volumes not only for Ella but also for her coach Mark Evans. This achievement now has Ella standing at number three in the world rankings.
As Evans (Impact and Australian Assistant Coach) would say, "Not bad for a young lady who trains in a little back yard shed amongst the trees in Cooroy."
When Ella arrived in Guwahati she was one of only six girls picked to represent her country; all up there was a total of 38 countries with 168 competitors, all fighting for a medal.
"When we arrived it was very hot and humid. It had been a 25-hour flight with four changes along the way; however I slept most of the time so when I arrived I was in pretty good shape. The one thing that made us all a bit nervous were the armed guards, they were everywhere. Whenever we travelled by vehicle there were armed guards travelling in front and back of our vehicles. But we soon got used to it."
For Ella the highlight of the tournament was her second round TKO of the Hungarian champion; it was this victory that put her into the semi-final.
In this bout she drew the South Korean champion, a highly experienced and very awkward southpaw, a bout which she lost on points. However her victory over the Hungarian had earned her the bronze medal; her fight with the Korean had been the fight off for the silver.
How did she feel on becoming a medalist in the World Titles?
"My emotions were somewhat mixed," she said. "It was simply great to know that I had fought my way into the medals, but on the other hand it would have been good to win one of another colour; but really I am very happy to come home with a medal. I was the only Aussie team member to do so."
Regarding the Aussie team they were great she said.
"Whenever one of us was fighting the rest of the team took up the Aussie chant, Aussie, Aussie, Aussie – Oi, Oi, Oi. And the rest of the stadium, including the Indians joined in; you couldn't ask for more. Aussies, Yanks. Pommies and Irish there was no holding back, they were all in it."
Another little antidote to the tournament was when the Indian announcer announced to the crowd that not was this young lady named Ella boxing for her country but she was also a black belt in Karate. "That caused quite a laugh amongst the crowd," said Ella. "It was totally unexpected – right out of the blue."
As with all major tournaments the draw for semi-finals always has a certain amount of luck that goes with it.
"I was hoping to draw the Italian as I was confident that I could beat her; however two of the others the Korean and the American (who had a 50 to 0 win loss record) would be very tough. However despite her outstanding record the American lost a controversial decision; as I said the luck of the draw- you never can tell."
A major factor in her medal win was her relationship with Coach Mark Evans.
"We have been together for a long time and now not only me but also my parents have nothing but the utmost confidence in his coaching and advice. We really are a good team."
As with the majority of amateur athletes, Ella's selection to represent her country resulted in a lot of personal sacrifice.
"My selection in the Australian team came as a bit of a shock. I already had made arrangements for a holiday in Bali and my accommodation was all paid for: no re-embarrassment. Also I missed my graduation and formal; two things I had really been looking forward to. However chosen to fight for Australia at the World Titles was really something."
For Ella, next year will definitely be a hard one for then as an 18-year-old she will move up into the Elite Division and as a lightweight (60kg) this will see her fighting girls much older and possibly bigger. However good results in the National Titles could once again see her on a return trip to India to fight in the Elite Championships.
With regard to her future she said, "Last year was a hard one so this year I will have a gap year and then think of going to Uni maybe to study languages; I have a real passion for Italian. Also with my background there could be something in sport and nutrition, but I will just wait and see."
As we talked it became quite apparent that this young lady had a great appreciation for the support of her parents her mother and father.
"They have supported me all the way and for this I am grateful; without them it would have not been possible."
For now it is a good break till after the New Year; so from all of us – a very resounding "What a year – Well done young lady!"
Proudly one of our people.